The Troy Savings Bank Music Hall presents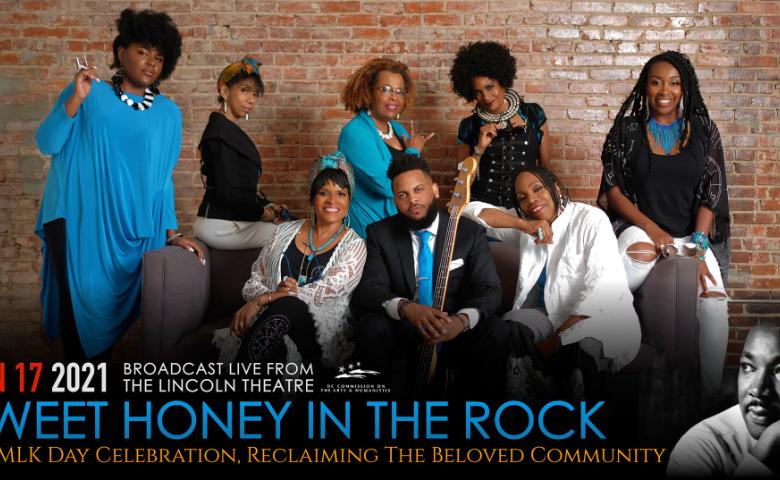 Sweet Honey In The Rock:
MLK Day Celebration Reclaiming the Beloved Community
Sweet Honey In The Rock: MLK Day Celebration Reclaiming the Beloved Community
Sunday at 3 PM EST & 8 PM ET - this is a ticketed event. Enjoy both the afternoon and evening concerts along with an intimate conversation with Sweet Honey, which will take place at 7:15 PM ET and is only available to bundle ticket holders. During this moderated dialogue, the artists will gather onstage and respond to your questions. Members of the group will share reflections from nearly five decades of activism and performance. Bundle ticket holders will also have extended access to re-watch the concerts for 1-week after the live broadcast.
TICKETS: https://thirdrow.live/events/sweet-honey-in-the-rock/p/troymusichall/
Tickets - $15- $50
Join Washington, D.C.-based, African-American a cappella ensemble, Sweet Honey in the Rock®, in Celebrating Martin Luther King Jr. Day. With five-part harmonies and sign language interpretation, Sweet Honey's sound ranges from African to blues to gospel and jazz. Throughout their sterling career, the ensemble has used their art form and their voices to defend civil rights, social justice, equality and freedom for all. Their messages of hope, resilience, and new beginnings feel particularly significant this year and come just days before the inauguration.
The show will feature an exciting lineup of remote guests sharing musical performances - celebrating the life of Reverend King and offering words of hope for the future.
The three-time Grammy® Award-nominated and internationally renowned group will perform songs from the group's extensive repertoire, which includes We Are, Let There Be Peace, The Women Gather, and Come Ye. Since 1973, Sweet Honey has empowered and inspired with songs about a range of social issues, blending potent themes with gorgeous artistry to stir the mind and the soul.+++++Currently consisting of members Carol Maillard, Louise Robinson, Nitanju Bolade Casel, Aisha Kahlil, Rochelle Rice, Christie Dashiell, and featuring Romeir Mendez on upright acoustic bass and electric bass. This performance will include American Sign Language (ASL) interpreter, Barbara Hunt.