The Troy Savings Bank Music Hall presents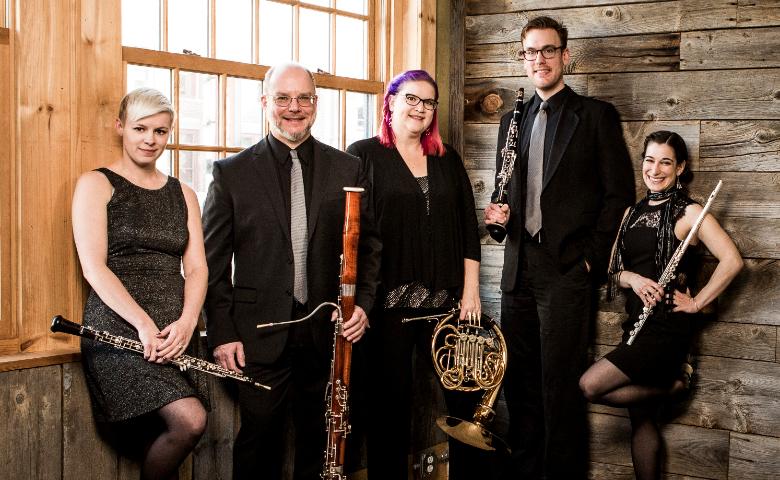 Quintocracy
What in the World is a Wind Quintet? - part of our free educational series
The Hall and Quintocracy have created a series of three free, hour-long virtual programs that will introduce local students through performance, lecture-demonstration, and Q & A sessions, to a variety of woodwind instruments, explore "endangered instruments" not commonly found in use today, and discover the importance of collaboration as a group. Quintocracy will use classical chamber pieces, modern takes on popular tunes, and pieces from around the world to showcase a wide range of music and cultures.
"What in the World is a Wind Quintet?"
Meet Quintocracy & Friends as they break down the ins & outs of a wind quintet and discuss the roles of the instruments in the group.

Repertoire:
"Dancing Solo" for Clarinet, Libby Larson - [8 min]
"The Great Train" for Flute, Ian Clarke - [4 min]
"Duos I, II, IV" for Clarinet & Flute, Muczynski - [4 min]
"Two Bit Contraptions II. Calliope, III. Gramophone" for Flute & Horn, Jan Bach - [3 min]
"London Trio" for Clarinet & Bassoon [4 min], Joseph Franz Haydn
"Divertimento" I. Allegro Energico, II. Languido, III. Vivace, IV. Andantino, V. Maestoso, VI. Piacevole, Malcolm Arnold - [9 min]
"3 Moravian Dances" I. Allegro, II. Con moto, III. Andante, Janacek - [4 min]
"Culminating Piece", Molly Percy Ganinger arr. Lin Y.E - [4 min]
"Pastorale", Amy Beach - [4 min]

Educators, students & homeschoolers - Register for this FREE virtual performance with Troy Savings Bank Music Hall Artists-In-Residence, Quintocracy!

All registrants will be emailed a link to a Zoom Webinar to join Quitocracy's virtual performance on the day of the performance. If you have not received this email, please reach out to our patron services team at boxoffice@troymusichall.org.

Quintocracy Virtual Education Programs generously sponsored by National Grid.