Support Us
Member Benefits
Become part of a proud tradition spanning three centuries and prove one person CAN make a difference.
Join us now - a basic membership* allowing participation in every member pre-sale is $75 ($50 for students and seniors!), and additional benefits accrue for larger donations.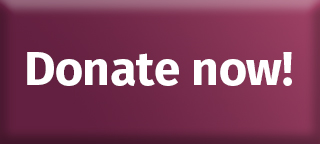 *Before a Membership purchased online may be used to access the member pre-sale online, the list of members must be updated on a terminal at our offices. Staff update this list three times during the business day but there will be a short delay before logging in with a new membership will allow you to see any shows that are only available to members.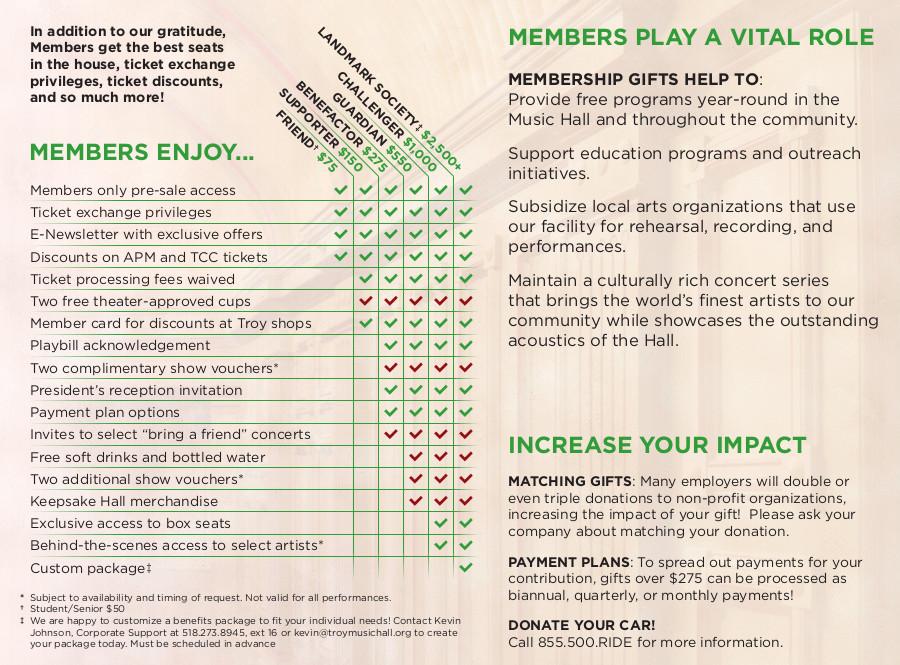 ---

The Troy Savings Bank Music Hall is on a mission to have a positive impact in our community. Our Community Partnership Program offers unique opportunities for the valuable donors to the Music Hall to explore shops, restaurants, and boutiques that make Downtown Troy the vibrant gem that we know it to be.
____
The following businesses offer discounts or special promotions for Music Hall Members at or above the Supporter Level ($150+):
Must present TSBMH member card at time of purchase for discounts. Other restrictions may apply.
____
22 Second Street Wine Co.
22 Second Street, Troy, NY
winetroy.com
518-874-1244
10% off your purchase
The Art of Reiki
251 River Street, Ste 401, Troy, NY
theartofreiki.com
518-271-7802
$10 off 1-hr energy healing session
*First time customers only – limit 1 discount per person, cannot be combined with other offers or gift certificates, cannot be used towards purchase of gift certificate. Please mention ad.
Bar Beauty & Co.
11 State Street, Troy, NY
barbeautyandco.com
518-268-2343
15% off all salon services
*Excludes keratin hair treatments. No combined discounts. Excludes gratuity.
Bard & Barker Board Game Cafe
501 Broadway, Troy, NY
bardandbaker.com
518-948-6693
10% off food, beverages, & game cover charge before or after a show
Canvas, Corks & Forks
274 River Street, Troy, NY
canvascorksandforks.com
518-332-6854
$5 off full price classes (code: musichall5)
*Excludes special offers already discounted.
Culinary Square
251 River Street, Troy, NY
culinarysquaretroy.com
518-326-5814
10% off full priced items
Funcycled
272 River Street, Troy, NY
funcycled.com
518-629-5386
10% off any piece of furniture in store
Hippies, Witches & Gypsies
33 Second Street, Troy, NY
hippieswitchesgypsies.com
518-326-1048
Complimentary incense with $20 purchase (after tax) approx. value $5
Little Pecks
211 Broadway, Troy, NY
518-326-3450
Free 12 oz. coffee with the purchase of a breakfast, lunch or dinner plate
Lucas Confectionary
12 Second Street, Troy, NY
lucasconfectionary.com
518-326-0630
$10 off any bottle on the bottle list
Mudaddy Flats
49 3rd Street, Troy, NY
muddaddyflats.com
518-326-0630
15% off your total
Pecks Arcade
215 Broadway, Troy, NY
pecksarcade.com
518-326-3450
$10 off any bottle on the bottle list
Plumb Oyster Bar
15 Second Street, Troy, NY
plumb.bar
518-326-0194
10% off food menu
River Rocks Jewelry & Bead Shop
209-211 River Street, Troy, NY
518-273-4532
10% discount of regular price items
*Does not apply to sale items, custom orders, or consignment
Segal Violins
44 Third Street, Troy, NY
518-266-9732
$5 off your merchandise total of $30 or more
*Excludes repairs & other services
Tara Kitchen
172 River Street, Troy, NY
518-328-6281
15% off your total
Taste of Troy
275 River Street, Troy, NY
518-495-2277
$5 off your tour (code MUSIC)


---

Join the Community Partnership Program!
By partnering with the Music Hall, your business will be promoted to our philanthropic members of our community, giving our members even MORE reasons to try new restaurants, visit new shops, or try out services in Downtown Troy. Each membership is valid for one year as shown on their Member Card, which can be presented to receive discounts or special offers at local businesses. Participants and their respective discounts will be listed above, added to the back of the member card (space is limited), and a full sheet with discount details, restrictions, and blackouts will be mailed to the members along with their tax acknowledgement letters.
We hope that you will join us in supporting local business and rewarding the Members who frequent our community! For more information, please contact Brittany Meegan, Patron Relations Manager at brittany@troymusichall.org or by calling (518) 273-8945.
TSBMH Community Partnership Program & Form