The Troy Savings Bank Music Hall presents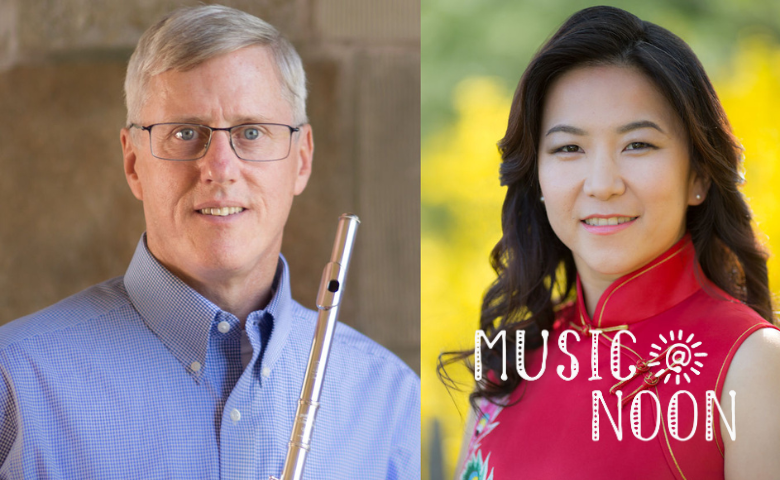 Music @ Noon Free Concert Series
Carl Gutowski & Yalin Chi
"American Mosaic". Music for flute and piano by American composers, including Edward MacDowell, Arthur Foote, Amy Beach, William Grant Still, George Gershwin, Samuel Barber and Aaron Copland.
Edward MacDowell - To a Wild Rose (arr. McLearnon)
Arthur Foote - Trois Pièces for Flute and Piano, Op. 31
1. Aubade Villageoise
2. Mélodie
3. Pastorale
Amy Beach - Romance (arr. flute/piano)
William Grant Still - Incantation and Dance (arr. flute/piano)
George Gershwin - Three Songs for solo piano.
1. I've Got Rhythm
2. The Man I love
3. Fascinating Rhythm
Samuel Barber - Canzone
Aaron Copland - Duo for flute and piano
1. Flowing
2. Poetic, Somewhat Mournful
3. Lively, with Bounce
Performers:
Carl Gutowski, flute
Yalin Chi, piano
Carl Gutowski, flute
Carl Gutowski is a flutist based in the Hudson Valley and Cape Cod, MA, who has been performing in solo and chamber music settings for over 30 years. Highlight performances over the past few seasons include venues such as Carnegie Hall's Weill Recital Hall; the Troy Savings Bank Music Hall; the Chapel Restoration, Cold Spring, NY; the Frances Lehman Loeb Art Center at Vassar College; the Cultural Center of Cape Cod; the Cape Cod Museum of Art; the Old Dutch Church, Kingston, NY; and the National Opera Center in NYC.
Carl's live performances have been featured on WQXR (NYC); WOMR (Provincetown, MA); WMHT (Hudson Valley); and WPRB (Princeton, NJ). He won the 2022 National Flute Association competition; was the runner-up finalist of the Syrinx Flute Competition (London); placed 3rd and won the Audience Favorite Award of the Boulder Bach Festival's World Bach Competition (Community); and won the SME Festival Concerto Competition.
Carl is also the Concert Manager of the Howland Chamber Music Circle in Beacon, NY, presenting chamber music concerts by world renowned musicians in the historic Howland Cultural Center.
He holds a B.A. in Mathematics from Vassar College and an M.S. in Computer Science from Tufts University. During his studies he also pursued music extensively. His principal flute teachers were Tacy Edwards, William Hebert and John Solum. He performed in master classes for Paula Robison, Ransom Wilson, Maurice Sharp and Lady Jeannie Galway.
When Carl isn't making music, he is a Software Engineer with nearly 30 years of experience developing software systems for air traffic control, publishing, education, e-commerce and finance. He is currently a Software Architect at SS&C | Innovest.
More info at https://carlgutowski.com
Yalin Chi, piano
Originally from Beijing, China, Yalin Chi made her début with the Central Opera Orchestra before moving to the United States to study at Interlochen Arts Academy. Yalin has performed at venues including Alice Tully Hall, Weill Recital Hall at Carnegie Hall, Kumho Art Hall in Seoul, Korea, and ZhongShan Music Hall in Beijing China. Her solo recital last year was selected by the Poughkeepsie Journal as one of the weekend top picks, and Leslie Gerber of the Woodstock Times described her recent recital in the Saugerties Pro Musica concert series as "flowing and masterful," with "gorgeous tonal coloring."
Yalin has worked with musicians around the world, including principal trombonist of the New York Philharmonic Joseph Alessi, principal trumpet of the London Symphony Orchestra Philip Cobb, clarinetist Alexander Fiterstein, and concertmaster of the Seoul Symphony Orchestra Wayne Lin. As an orchestral musician, she regularly performs with Albany Symphony, New Jersey Festival Orchestra, and has held the principal keyboard position at the Hudson Valley Philharmonic since 2014.
Yalin studied with Seymour Lipkin and Jerome Lowenthal at the Juilliard School where she earned both undergraduate and masters of music degrees, and continued studies with Peter Frankl at Yale School of Music before joining the West Point Band in 2008.
More info at https://www.yalinchi.com/