Education
Unison Student & Family Membership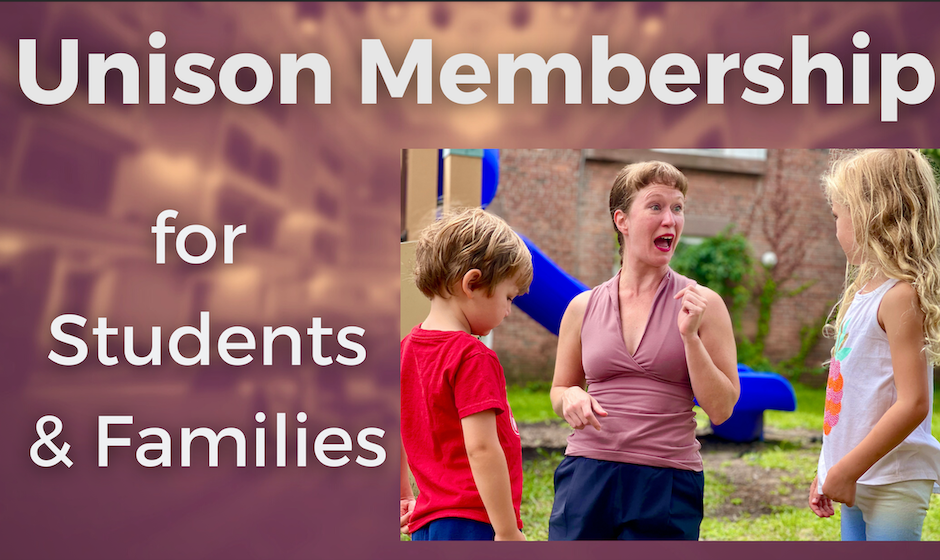 If you're having trouble with the online registration form you can register by calling the box office (518) 273 - 0038, or by visiting our Box Office Monday - Thursday from 10AM - 3PM.
ANY ADDITIONAL FAMILY MEMBERS BESIDES PARENT/GUARDIANS AND STUDENTS MUST RESIDE IN THE SAME HOUSEHOLD AS THE STUDENT. Any family members that are not listed under the same address will not be included under the Unison Program.
NOTE: If you need CDTA Bus Passes, please call the box office and we will arrange to have those passes mailed out to you. NOTE: CDTA bus passes must be requested no later than 2 weeks before a performance to allow for adequate time for mailing. CDTA Bus Passes can be requested for any performance, but quantities are limited. Passes will be supplied on a first-come, first-serve basis. Children under 46" will not be eligible for the bus passes — under 46" ride free with CDTA!
At least ONE student must be a ticket holder for each attended performance. Students may be asked to show student ID.
Eligible Performances will be added on a rolling basis — members will receive email notifications of new shows added to this list. Quantities of tickets are limited, so be sure to purchase your tickets ASAP!

2023 - 2024 Unison Eligible Performances:
ALBANY SYMPHONY ORCHESTRA PERFORMANCES AT TROY SAVINGS BANK MUSIC HALL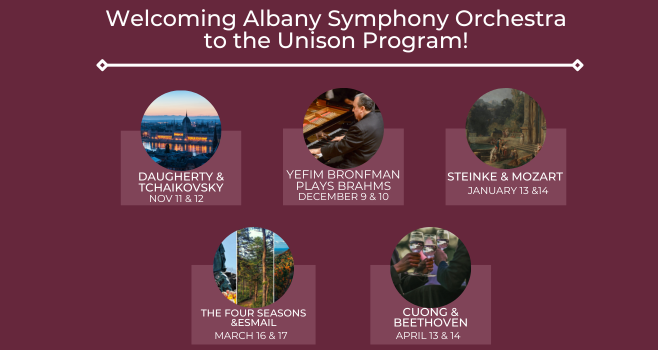 *More shows are added as availability allows!
Be sure you're registered for the Unison program to get immediate updates on added shows.*
*Unison policies and show availability may be subject to change at any time.
---
Thank you to our Unison Program Sponsors: