It's our mission to be a center for arts education in our community -- and we'd love to partner with you! Whether you're looking to enhance your existing programming with a hands on workshop, or looking for a hands on, memorable experience with a professional in the arts — we'd love to share our love for the arts with you!
Teaching Artist Directory 2022 - 2023
The Music Hall maintains a diverse teaching artist roster, ranging in all styles and genres across the performing arts disciplines. Workshops are offered in schools and at our Hall. Click below for the current roster!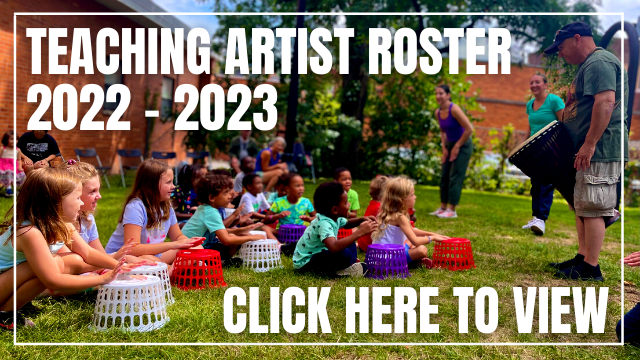 Teaching Artist Directory 2022-2023
Booking Information
There are a a couple of ways to book our teaching artists:
Option 1: Fill out this Teaching Artist Request Form
Option 2: Contact Director of Education & Outreach, Jessica Bowen at (518) 629-4016, or jessica@troymusichall.org with your inquiry.
In School Performances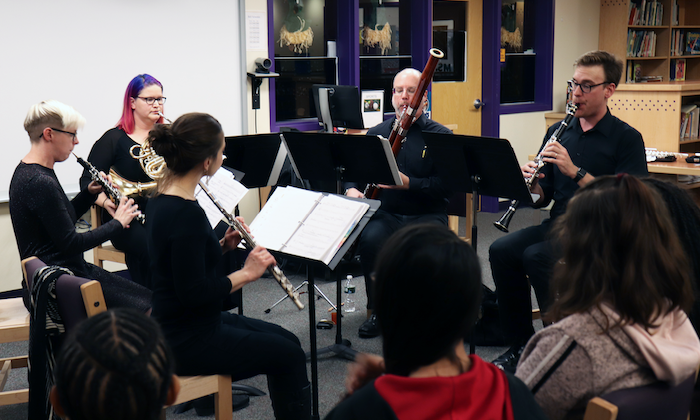 Quintocracy interactive performance for students at Troy Middle School.
The Music Hall provides the opportunity for our partner ensembles to visit schools throughout the capital region. These interactive performances give students the opportunity to experience live music and learn about the music and musicians behind it. For more information on our in - school performance offerings, please contact Jessica Bowen (518) 629 - 4016, or jessica@troymusichall.org
Enrichment Programs
The Music Hall works to develop close relationships with educators, youth organizations, and school districts throughout the capital region to provide several multi - week programs to students. These programs are uniquely designed for your organization, and provide a completely unique experience for your students. Examples of past programs include but are not limited to:
6 - week program with teaching artist Jordan Taylor Hill studying West African Drumming and Dance, culminating in a performance recording session at the Music Hall.
3 - week program with Quintocracy wind quintet in workshops on music appreciation.
4 - week program in collaboration with NATURE Lab at the Sanctuary for Independent Media studying art in nature.


Interested in learning more about educational opportunities for your students?
Please Contact Jessica Bowen, Director of Education & Outreach at jessica@troymusichall.org or call (518) 629 - 4016.