Thank you for your interest in renting the Troy Savings Bank Music Hall. The Music Hall is a world-class location for recording and live performance.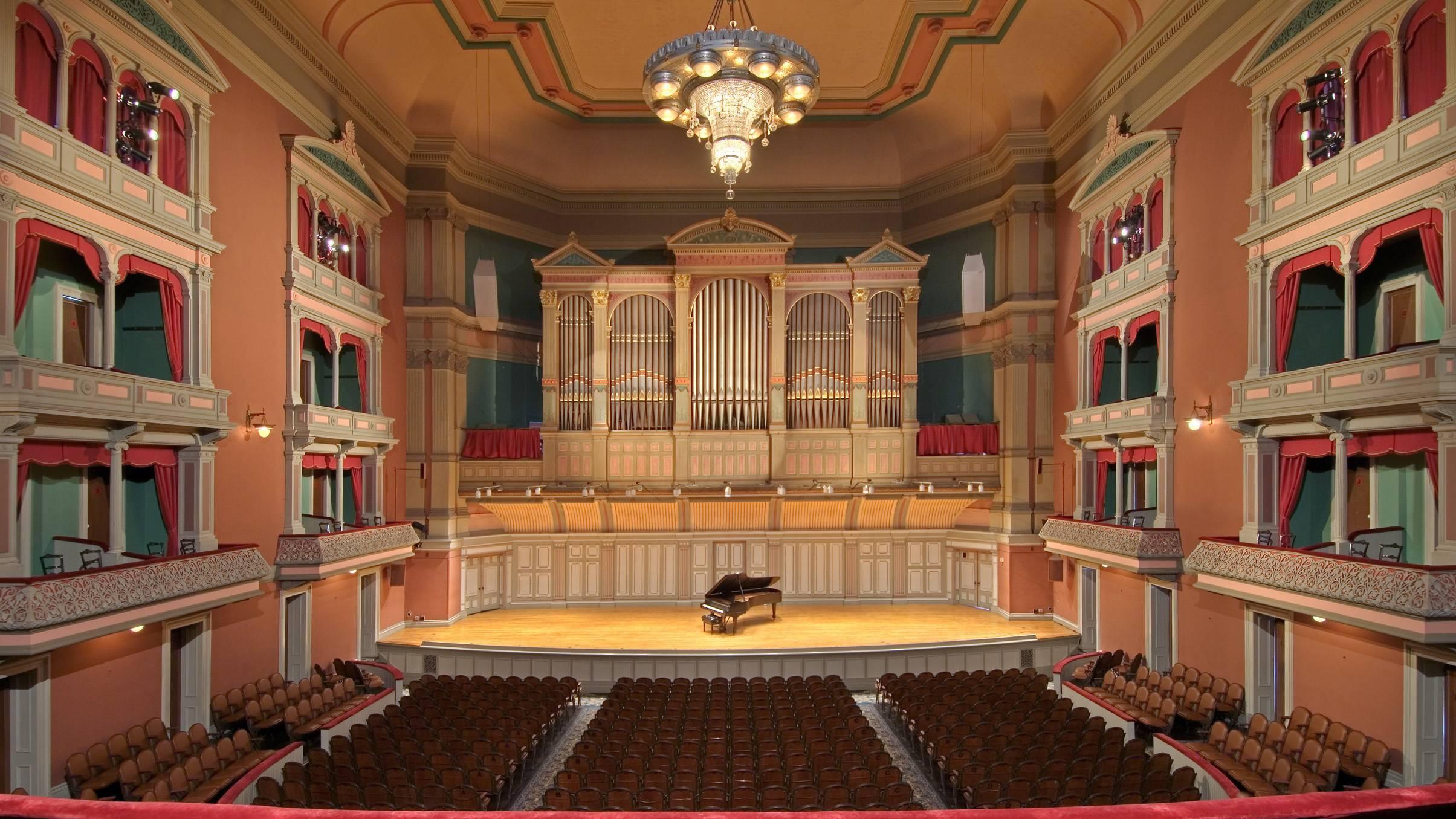 Live Performances & Events
The Hall is available for rehearsals, auditions, live performances of music or theatre, press conferences, corporate and community events, fundraisers, and meetings. The theatre room features a state-of-the-art sound system (upgraded in 2020!), Steinway Model D Piano, and other unique features. With seating of up to 1175, we have a long history of creative uses of our historic Hall and are happy to assist you with your event details. Additional services such as box office/ticket sales, marketing, and production support, as well as special rates for nonprofit entities are also available.
Recording Sessions
The Troy Music Hall has a long and renowned history of use as a recording location. We are renowned for our treasured acoustics making for an ideal recording environment. From full orchestral pieces to small ensembles and soloists, we are pleased to work with groups of all sizes and genres. Assistance with travel and lodging arrangements available.
Listen to a piece recorded in the Hall: Paul Reale: Midnight (Piano Sonata No 12) (track 12, 2:00-2:49)
Testimonials
"It's more than the beautiful sound and the wonderful staff. Everyone knows the sound will be great, but what my artists are always struck by—and me, too—is that working in that remarkable acoustic results in them finding another dimension to their playing or singing. They are able to take more chances, and the Hall responds almost like another player, creating a remarkable positive feedback loop. They end up doing things they wouldn't have tried in another Hall." – Richard Price, Producer/Engineer – Candlewood Digital LLC.
"The renowned Troy Savings Bank Music Hall is well known as a uniquely special acoustic and architectural gem amongst those in my profession. Rarely does a hall exhibit all of the desired traits one wants in an acoustic space. Clarity, richness of sound, sublime, natural reverberation that's not too much nor too little. All that, plus feeling like you've stepped directly into the past and inside one of the great acoustic spaces of the golden age. The Troy Savings Bank Music Hall is to this day, is hands down one of the great halls in the United States." – Marlan Barry, Recording Engineer/Producer/Musician – Marlan Barry Audio
"The Troy Savings Bank Music Hall is one of my favorite places to record! Its perfect symmetry makes shifts in phase audibly noticeable, and I can position the microphones accordingly. The reflective surfaces enhance reverberation time but can be tamed. Most noticeable from the stage is the return of sound waves that give the musician a very real sense of the hall's spirit. In most halls, the sound is designed to emanate from the stage and disappear, but not at the Music Hall. It's like the sound speaks back to you. In this way, the Troy Savings Bank Music Hall is a very real, active participant in the creation of art, helping to make a great recording easy. The Music Hall is...well, just great! I am honored each and every time I come to the Music Hall; its history and richness of tradition motivate me to do my best to capture its beautiful and spectacular acoustics." – Dan Czernecki, Audio Engineer/Instructional Designer - Classical Recording Service
More about the history of recording at the Hall:
NY Times: Recordings; Acoustics Are the Treasure in Bank's Hall
American Heritage: Troy's Hidden Treasure
Please view the below specification and rate sheets. For further information about renting our historic treasure please contact Jon Elbaum, jon@troymusichall.org.