Troy Savings Bank Music Hall presents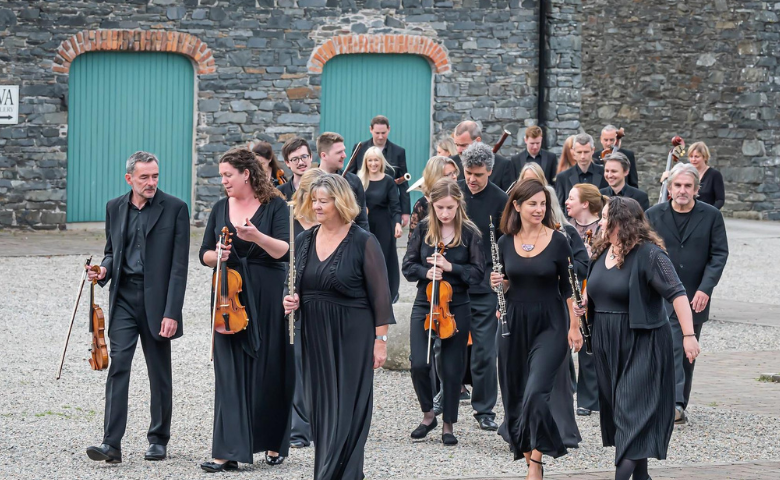 Camerata Ireland
Troy Chromatics Concert Series
Camerata Ireland
Barry Douglas, piano and director
Celine Byrne, soprano
Eimear McGeown, Irish flute and whistle

Program:
Mozart Overture tbc
Mozart Concert Aria - Ch'io mi scordi di te (soprano and piano)
Mozart Arias for soprano
John Field 2 Nocturnes for piano & orchestra (arr B Douglas)
Beethoven Piano Concerto No 2 in B flat
----Intermission---
Inis - Irish air (Eimear McGeown/arr. Douglas) Raggle Taggle Gypsy (arr. Douglas)
Mushroom Tree – Jig (Eimear McGeown/arr. Douglas) Kid on the Mountain – Jig (arr. Douglas)
My Lagan Love - (arr. Douglas)
Irish Songs with Celine Byrne
Carrickfergus – Irish song
Planxty – Irish dance
Farewell to Music (Turlagh O'Carolan/ arr.Douglas)
Barry's Reels arr for flute, piano and orchestra
Mná naÉireann (Women of Ireland)
Oró sé do bheatha 'bhaile
Camerata Ireland was founded in 1999 by pianist Barry Douglas as a response to the ground-breaking Good Friday (Belfast) Agreement. The first concerts were on consecutive days in April 1999 in Stormont Parliament Buildings (N Ireland) and St Patrick's Hall in Dublin Castle with proceeds to Cooperation Ireland.
The ethos of Camerata Ireland brings together the finest musicians who live and work in Ireland, both North and South, and Irish musicians who work and live abroad. In recognition of the exceptional nature and quality of its work Camerata Ireland was awarded the Joint Patronage of Mary McAleese, President of Ireland and Her Majesty Queen Elizabeth II in 2004. The orchestra is very grateful for this honour which has been continued with the Patronage of the President of Ireland, Michael D. Higgins and HM The Queen.
Camerata Ireland is committed to supporting and nurturing new young Irish talent and giving them performance opportunities through the Clandeboye Festival and Camerata Ireland touring.
Since its formation, Camerata Ireland has travelled the world to wide critical acclaim. Early tours were festival concerts at the Kennedy Center in Washington DC as guests of Ambassador Jean Kennedy Smith, followed by a 4-week tour in North America. After glowing reviews from the North American press including the Washington Post, Camerata Ireland began a rich and busy schedule of international touring. In 2016 Camerata Ireland was invited to a special Festival at the Kennedy Center, Washington DC marking the 100th anniversary of the Easter Rising in Ireland.
The orchestra began touring in South America in 2000 to great acclaim, followed by many tours in France, Spain, Italy, Germany, Poland, Finland and China. Notable successes have included the Irish Festival of Arts and Culture in China in 2004, the 2006 International Beethoven Festival in Warsaw, the Smithsonian Festival in the US Library of Congress, the Naantali International Festival in Finland in 2007, the Festival de la Chaise-Dieu in France in 2008 and 2009, and multiple European Festivals over the years. Camerata Ireland was invited to be in residence in Paris at the Théâtre des Champs-Elysées over many years- with a focus on Mozart.
Camerata Ireland made its Carnegie Hall debut in 2011, the BBC Proms in Summer 2013, and performed Beethoven at the 40th Anniversary of the Kilkenny Arts Festival. In May 2011 the orchestra was honoured to be invited to perform for the (former) President of Ireland, Mary McAleese and Her Majesty the Queen, as part of the latter's historic State visit to Ireland.
Highlights over the years have included tours to South America, including Buenos Aires, Rosario, Cordoba, Santiago de Chile, Sao Paulo and Rio de Janiero, and tours of China, with appearances in Guangzhou, Hangzhou, Yichun, Beijing, Wuhan and Shanghai.
Every summer Camerata Ireland returns to its Irish roots to perform in its annual Clandeboye Festival held in August in the historic Clandeboye Estate in Co Down, Northern Ireland. The festival has just celebrated its 20th anniversary in 2021. After on-line and shortened festivals in 2020 and 2021- this year promises a week-long Festival with our usual major artists and great repertoire from 20th -27th August 2022. Masterclasses and concerts with new emerging Irish musical talent is always at the core of the Festival.
Future tours are being planned n North America as part of the 25th anniversary of the orchestra's founding, followed by Spain, Italy, France, South America and a special tour in Japan as part of a new cultural initiative between Ireland and Japan.