The Troy Savings Bank Music Hall and WEXT present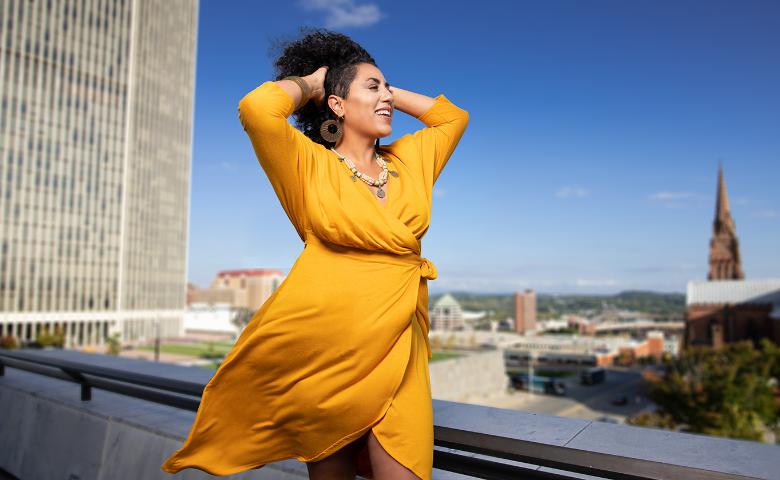 Taína Asili
The UpLift Commissioned Series - Free, No Ticket Required
Click here to see the YouTube premiere video. This video will go live Friday, May 21, at 7 PM.
Click here to join the Zoom discussion after the video premiere on Friday.
The UpLift Commissioned Series features musicians commissioned by the Hall to create one new song that reflects their emotions and experiences during the last year. Each song was performed and filmed on the Music Hall stage. The resulting videos will be premiered on YouTube and Facebook, and will be followed by an online discussion with the artist. The audience will be able to ask questions of the artists and interact with one another.
This event is free and open to the public, no ticket required! Links to the online event will be released closer to the performance.
Taína Asili is a New York-based Puerto Rican singer, filmmaker and activist carrying on the tradition of her ancestors, fusing past and present struggles into one soulful and defiant voice. Her music combines powerful vocals carrying themes of hope and liberation with an energetic fusion of Afro-Latin, reggae and rock. Asili's music offers a sound that spans continents, exuding strength of Spirit, inspiring audiences at venues across the globe – From Carnegie Hall to the Women's March on Washington to the main stage of San Francisco Pride.
Gaetano Vaccaro is first generation Sicilian, raised in Albany, NY. Influenced by the Sicilian guitar playing of his father and grandfather, Gaetano began studying various musical instruments in his early childhood. One might now be challenged to find an instrument he cannot play, well versed in guitar, bass, drums, saxophone, clarinet, flute, keyboards, and cello. Gaetano is skilled in numerous genres from rock to jazz to flamenco. He has studied under well-known jazz guitarists John Hilton and Pat Martino, and flamenco guitarist Miguel Angel Cortez. In addition to his duet work Taína Asili and his work with la Banda Rebelde, Gaetano performed across the country numerous times and put out two albums with hip hop/rock band Broadcast Live. Gaetano fell in love with Taína Asili and her son in 2006, and there began the journey of intertwining their music and family.
Gaetano is the founder of Sunangel Media, and is the director of photography and editor for Taina Asili's music videos Freedom and And We Walk. Since 2009, he has been an arts instructor to youth in music, film and new media with the award-winning program YouthFX. Gaetano is committed to making meaningful contributions to community through his work, and has been supporting non-profit organizations, small businesses and artists with music, media and design for over a decade.