The Troy Savings Bank Music Hall presents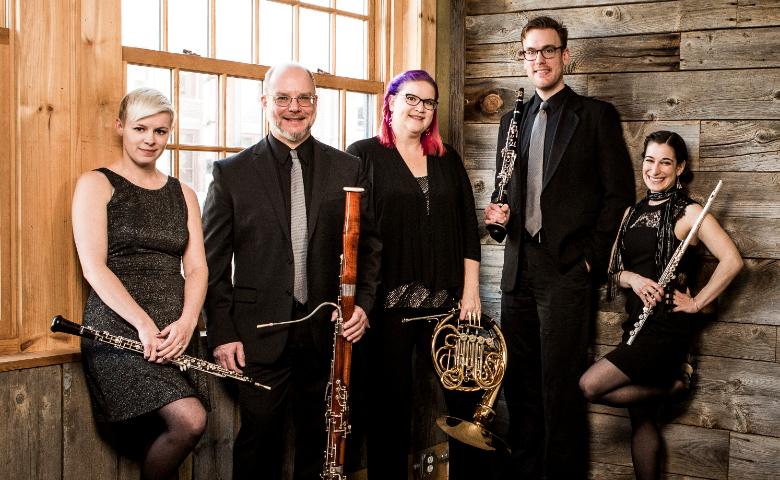 Quintocracy
A Very Musical Journey - part of our free educational series
The Hall and Quintocracy have created a series of three free, hour-long virtual programs that will introduce local students through performance, lecture-demonstration, and Q & A sessions, to a variety of woodwind instruments, explore "endangered instruments" not commonly found in use today, and discover the importance of collaboration as a group. Quintocracy will use classical chamber pieces, modern takes on popular tunes, and pieces from around the world to showcase a wide range of music and cultures.
A Very Musical Journey
Quintocracy discusses the musical journey that brought them to what they do today as musicians.

Repertoire:
1. Allison Loggins-Hull Have and Hold for Flute and Electronics
2. Benjamin Britten Pan from Six Metamorphoses for Solo Oboe
3. Camille Saint-Saens Sonata for Clarinet and Piano
Allegretto
4. Adolphus Hailstork Set for Solo Bassoon
Moderato con Anima
5. Bernhard Krol Laudatio for Horn
6. Paul Desmond arr. Antonio Livio Spaltro Take 5
7. David Paich and Jeff Porcaro arr. Adrian Wagner Africa
8. Jim Henson and Sam Pottle arr. Ralph Raymond Hays Theme from The Muppet Show
9. Paul Hindemith Kleine Kammermusik, Op. 24, No. 2.


Educators, students & homeschoolers - Register for this FREE virtual performance with Troy Savings Bank Music Hall Artists-In-Residence, Quintocracy!

Registration Instructions: One registration per household, class, or group. For grant purposes, we kindly ask you to include an estimated number of viewers in the registration order notes to help us with acquiring future educational grant opportunities. Registered attendees will receive more information on how to access Quintocracy's Virtual Performances closer to the date of the live stream. We thank you for your continued commitment to our Arts in Education initiatives!

Quintocracy Virtual Education Programs generously sponsored by National Grid.