Discover The Troy Music Hall
---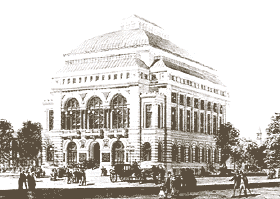 Founded in 1823, The Troy Savings Bank operated from smaller banking offices until, in 1870, the Board of Trustees of the Bank decided to move its offices to a new location one block away. To demonstrate the Bank's appreciation for the many years of patronage by the local citizens, the plans for the new building included a music hall on the upper floor. After examining various proposed plans, the Board of Trustees selected George Browne Post as the architect.
In the early years of the twentieth century the Music Hall was honored with performances by such world-renowned artists as Lillian Nordica, Henri Vieuxtemps, Ignace Jan Paderewski, Albert Spaulding, Sergei Rachmaninoff, Myra Hess and Jose Iturbi. During the era preceding World War II, internationally respected performers continued to grace the Music Hall stage, including Vladimir Horowitz, Yehudi Menuhin and Artur Rubenstein, among many others. Rarely did a great musician of the day fail to include on his or her American tour an appearance at the celebrated Music Hall atop The Troy Savings Bank.
As the twentieth century progressed, Troy's industrial dominance declined. As Troy's wealth faded, so did its ability to support the arts on the scale to which it had become accustomed. The advent of radio, cinema and television provided alternative forms of entertainment for the city's growing middle class. Troy's community leaders began looking into ways to save the Hall. Ideas, most of which involved buying the building from the bank with either private or public funds, included establishing a Museum of Industrial and Folk Art downstairs and renting the Hall itself to the area's many colleges. In 1979, a group of private citizens formed the Troy Savings Bank Music Hall Revitalization Committee. Since funds for the renovation could legally come only from the bank, the new organization's mission was to find ways to utilize the Hall as much as possible in its present condition. The Committee received grants from the New York State Council for the Arts for an audience-potential study and from the Howard & Bush Memorial Foundation for managerial development. With the bank's support and additional funding from the city and county for its administration, the Troy Savings Bank Music Hall Corporation was born. A not-for-profit organization which leases the Hall from the bank, it began its introductory 1979-1980 season with a performance by the Benny Goodman Band.
Today, the Troy Savings Bank perpetuates its gift to the Troy community through its ongoing restoration and renovation projects, while the Music Hall Corporation moves ever closer to its goal of developing the full potential of this treasure. The Hall, which was named a National Historic Landmark in 1989, is in use over one hundred and fifty days a year, and looks forward to a future fully as bright as its storied past.
- R. McClintock