IT'S A BIRD, IT'S A PLANE, IT'S .....
BARKER PARK KIDS' SUMMER SERIES!
Cost: FREE
Where: Barker Park, Downtown Troy, Corner of 3rd and State Streets
]The Troy Savings Bank Music Hall Corporation and The Troy Savings Bank Charitable Foundation announce free summer fun for children with the Barker Park Kids' Summer Series! Last summer we handed out bunny ears and asked everyone to hop on over to Barker Park. This year we celebrate our Super Heroes and everybody will get a free Super Hero badge! Every Thursday at 11 AM, starting July 5 through August 23, a new performer or activity will be presented in the park, located on the corner of 3rd and State Streets in downtown Troy.
The remaining schedule: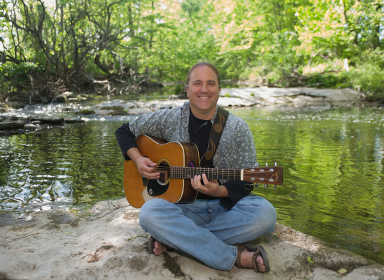 July 19 – Andy The Music Man
Andy "The Music Man" Morse is a popular children's musician renowned for the special way he connects with his audiences. A talented guitarist, mandolin player and songwriter, Andy mingles traditional and original songs and novelty, delighting and involving kids through sing-a-longs, dancing, play-acting and storytelling.
July 26 – Ramblin Jug Stompers
Ramblin Jug Stompers have been kickin' up a vintage American roots-rockin' ruckus for more than a decade and they're still stompin' strong. Conjuring up the ghosts of early legends like Gus Cannon and Charlie Poole, mixing in the best of the 60's folk revival with some seasoning from the current Americana movement, Ramblin Jug Stompers have melded these influences with their own contemporary spin and wry sense of humor. The quartet – Cousin Clyde, Bowtie, Mister Eck and Wild Bill – traces their roots directly to membership in the legendary Star Spangled Washboard Band and early MTV pioneers Blotto, echoing those bands' unique combination of hot-wired musicianship and quick wit.
August 2 – Troy Public Library
The Troy Public Library will host a Story Hour with a very special visit from the one and only Spiderman! Appropriate for children ages 4 to 10 years of age, and the wearing of all Super Hero gear is encouraged!
August 9 – Heard
Heard is Elizabeth Woodbury Kasius, composer/pianist, Jonathan Greene, woodwinds, Bobby Kendall, bass, Brian Melick, drums/percussion, and Zorkie Nelson on drums/percussion/vocal. Heard's energizing world music will put a smile on your face and get you up and dancing! The group will present an all-ages interactive show with percussion instruments for kids to check out and learn some rhythms!
August 16 – Watch Reggie Run – Dave Graham
Formed in 2017 by Dave and his son Luke who has autism, WATCH REGGIE RUN, is named after how they spend their time when not making music (watching Luke's sister Reggie run in Track and XC meets). The father/son duo shares a love of music and has found it to be a great way of connecting despite Luke's limited communication skills. Music can be a very powerful way of breaking down any barriers! The songs were all inspired by Luke. It's fun music for all ages!
August 23 - Seth & The Moodymelix
Borrowing from a wonderfully diverse mix of musical styles, this toe-tapping trio plays lyrically rich music for kids that parents can appreciate, too. With guitar (Seth Warden), fiddle (Doug Moody) and percussion (Brian Melick), along with sweet harmony vocals, their songs impart good values and educational tidbits in a fresh upbeat organic st