The Troy Savings Bank Music Hall presents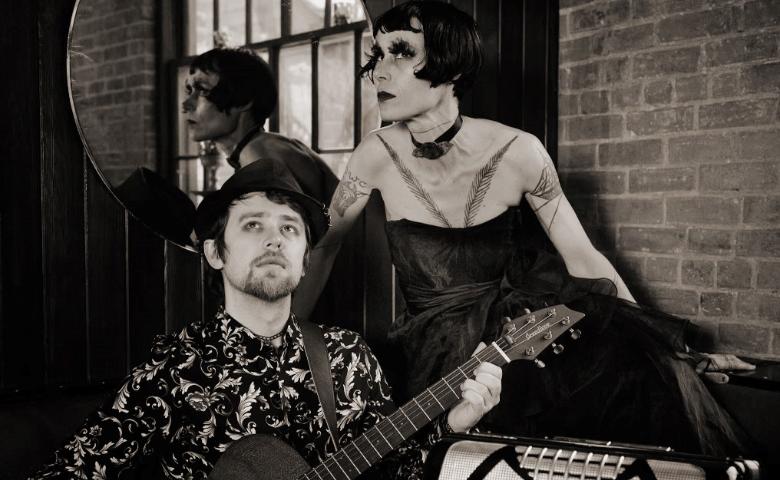 Troy's Summer Square Series
Dust Bowl Faeries Duet, dark carnival dream music - This outdoors concert series is free & open to the public, no ticket required!
Free Concerts! Every Friday and Saturday Night through August!
Troy's Summer Square Concert Series is a free, outdoor event taking place at 6 PM on Friday and Saturday nights in July and August. All performances are weather dependent, there is no alternate rain location.
We conclude the series with Dust Bowl Faeries Duet, dark carnival dream music.
The Dust Bowl Faeries duet (Ryder Cooley & Jon B. Woodin) will intrigue and enchant you with dark cabaret music on accordion, singing saw, and acoustic guitar. Their eclectic repertoire of songs draw inspiration from circus, post-punk, and Eastern European folk music.
Hailing from the New York Hudson Valley, the Dust Bowl Faeries dark carnival band was founded by Ryder Cooley and her spirit animal, Hazel the Ram. The ensemble recently released an album titled The Plague Garden, and video, Candy Store, produced by Thin Edge Films and shot during the 2020 pandemic. Previously, the band released two EP's (Beloved Monster and The Dark Ride Mixes) and a self-titled debut album produced by music critic Seth Rogovoy, featuring Tommy Stinson (Replacements) & Melora Creager (Rasputina).
"The band creates sounds both mystical and ethereal and have drawn comparisons to Gogol Bordello, David Lynch, Dresden Dolls and Dead Can Dance" Stitched Sound 2020