The Troy Savings Bank Music Hall presents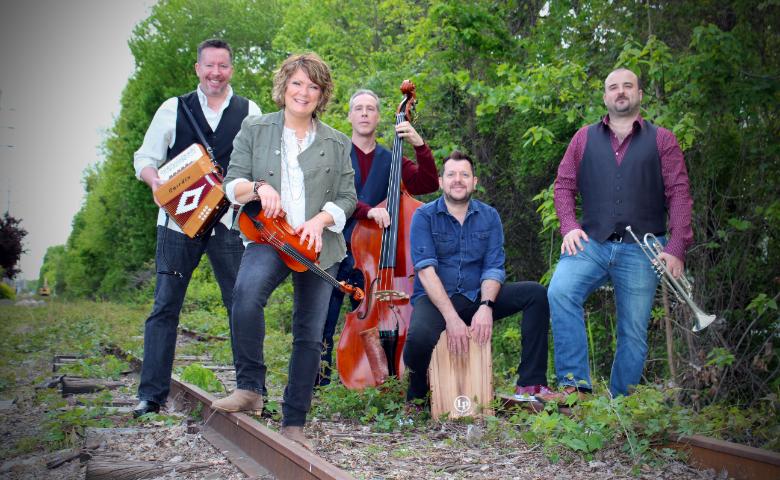 Eileen Ivers with Dervish
Americana and World with Celtic roots
Please visit our Health & Safety Guide for more information regarding Masks & Vaccination requirements.
Americana and World with Celtic roots
What's the difference between a fiddle and a violin? In the hands of a celebrated guest soloist with over 50 Symphony Orchestras, who also shreds electric fiddle through fuzz, wah and looping effects …who is called "the future of the Celtic Fiddle" by the Washington Post, and "the Jimi Hendrix of the violin" by the New York Times …who is Bronx born, yet the 9-time All-Ireland Fiddle Champion. What's the difference? Nothing, in the hands of Eileen Ivers.
Grammy®-Awarded and Emmy-nominated, Eileen Ivers, continues to push the fiddling tradition boundaries from a folk music staple to a fiercely fresh, powerfully beautiful, intensely driving world stage experience. Eileen has performed with Sting, 'Fiddlers 3' with Nadja Salerno-Sonnenberg and Regina Carter, Patti Smith, Al Di Meola, The Chieftains, was the groundbreaking Musical Star of Riverdance, a founding member of Cherish the Ladies, a former member of the Hall & Oates band, a featured instrumentalist on soundtracks including "Gangs of New York" and Back to Titanic", and she is one of the most awarded All-Ireland Fiddle and Banjo champions ever. Eileen has been proclaimed "a national treasure" by NCTA Board Chairman George Holt as she celebrates her 30 plus year career as a performer, composer, producer, songwriter, band leader, educator, multi-instrumentalist and renowned pioneer in connecting her American, Irish traditional, jazz, blues, and world roots.
Eileen's most recent CD, "Beyond the Bog Road", and its extensively researched sixteen-page liner notes focus on the influences of the Celtic tradition on Roots music (bluegrass, French-Canadian, Cajun, Appalachian, Americana) and how the music journeyed on to become a fundamental ingredient of the American Country music tradition. Irish Music Magazine called it "a triumph …a musical Magnus-Opus" and the album reached number one on the Alt-Country Roots Music Chart.
Eileen's new, energetic, joyous and passionate band, Universal Roots, connect music, cultures, stories, and emotions that tie us together …celebrating the fact that we are more alike than dissimilar. Music truly is the universal language. The ensemble, with a broad array of instrumentation, features Matt Mancuso (lead vocals, guitar, trumpet, fiddle), Buddy Connolly (button accordion, whistles, piano, vocals), Lindsey Horner (upright and electric bass, baritone sax, vocals), Dave Barckow (lead vocals, percussion, guitar), together with Eileen on fiddle, mandolin, banjo, bodhran, and live looping.
Dervish has been bringing Irish traditional music to the world for more than 25 years. Described by the BBC as "an icon of Irish music", the band has played at festivals from Rock in Rio to Glastonbury, toured with the Irish President, and struck up tunes on the Great Wall of China.
Dervish has a line-up that includes some of Ireland's finest traditional musicians, fronted by one of the country's best-known singers, Cathy Jordan.
The Guardian newspaper commented: "Dervish are simply brilliant . . They carry Irish history with them."
Dervish is long-established as one of the biggest names in Irish music internationally. They're renowned for live performances which match dazzling sets of tunes with stunning interpretations of traditional songs. Their studio and live albums – 12 to date – make up one of the outstanding catalogs in Irish music. They are regular visitors to the US, where their concerts are often sold out, however, their fanbase stretches across several continents. They spend much of their time traveling across Europe and have also toured in Asia, South America, and Australia.