The Troy Savings Bank Music Hall presents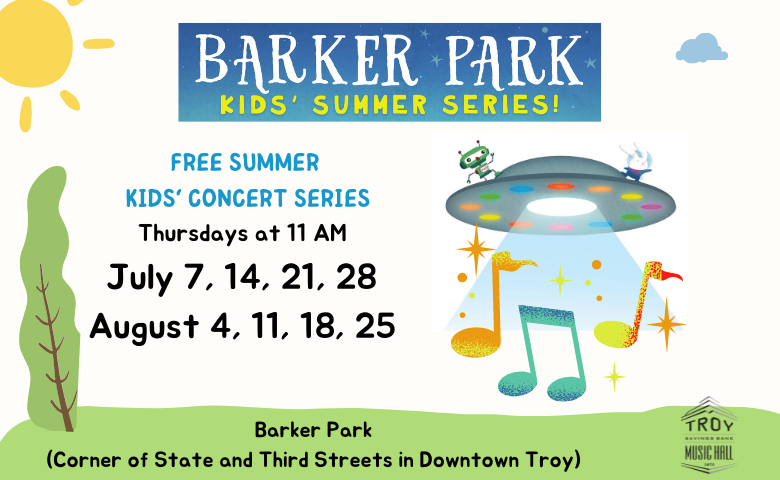 Barker Park Free Kids Concert Series
Thursday's at 11am
The Troy Savings Bank Music Hall is thrilled to announce the return of free outdoor concert series; Barker Park Kid's series! Barker Park shows are at 11am on Thursdays during July and August. Barker Park is located at the corner of 3rd and State Streets.
Coming up:
---
August 25th: THE RAGTIME WIND JAMMERS
The "Ragtime Windjammers" play historic tunes meant to illustrate several facets of Jazz music as it developed in America around the turn of the 20th century. Audience participation is encouraged and several volunteers are used to visually illustrate several acoustic ideas.
*Check the website and social media for updates in case of inclement weather. If the event is canceled due to weather, it will not be rescheduled.
Past Performances:
---
July 7th: ANDY THE MUSIC MAN
Popular children's musician renowned for the special way he connects with his audiences. A talented guitarist, mandolin player and songwriter, Andy mingles traditional and original songs and novelty, delighting and involving kids through sing-a-longs, dancing, play-acting and storytelling.
July 14th: HEARD
A collective of musicians that bring their skills and passion for world music, jazz and improvising together to create irresistible grooves set in a unique sonic tapestry. Together for a decade, their vibrant sound incorporates influences from West Africa, Brazil, the Caribbean and beyond.
July 21st: WATCH REGGIE RUN
Formed in 2017 by Dave and his son Luke who has autism, WATCH REGGIE RUN, is named after how they spend their time when not making music (watching Luke's sister Reggie run in Track and XC meets). The father/son duo shares a love of music and has found it to be a great way of connecting despite Luke's limited communication skills. The songs were all inspired by Luke. It's fun music for ALL AGES!
July 28th: TERRI ROBEN
She has performed concerts in schools, festivals, coffeehouses, and led classes in libraries for preschoolers to 5th graders. She worked in schools with the Scotia Children's Traveling Museum for 10 years. She owned her own Music Together business and taught Music Together for 11 years.
August 4th: TROY PUBLIC LIBRARY
Presenting the Under The Sea Story Hour!
August 11th: JORDAN TAYLOR HILL
Jordan is an artist rooted in traditional music from West Africa and the diaspora combined with todays sounds. His early influence in song writing and performance is coupled in a unique way meant to equally inspire and entertain.
August 18th: ELLEN SINOPOLI DANCE COMPANY
31 year old not-for-profit arts organization located in NYS's Capital Region. ESDC's commitment to CREATE, COLLABORATE, EDUCATE and PARTNER remains in the forefront as it shares its work with diverse audiences through concerts, showcases, residencies, workshops, educational and community outreach.