The Troy Savings Bank Music Hall presents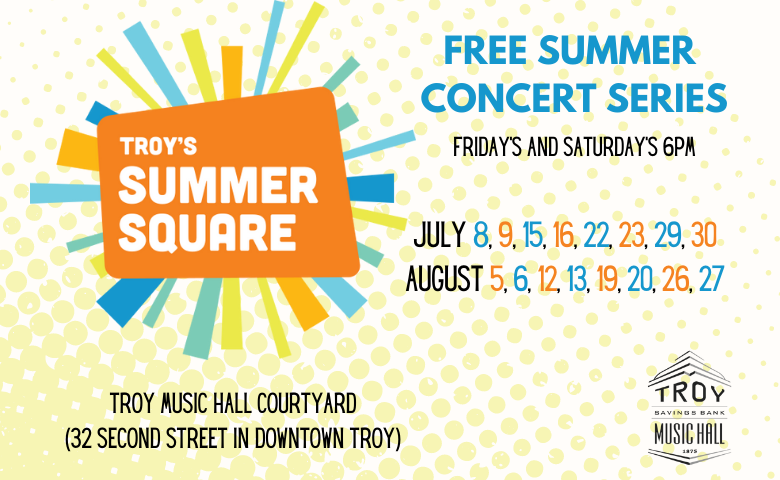 Summer Square
Outdoor Concert Series
The Troy Savings Bank Music Hall is thrilled to announce the return of the free outdoor concert series; Summer Square taking place every Friday and Saturday evening at 6pm in the Music Hall Courtyard on 2nd Street during July and August. Bring your lawn chairs!
Coming up:
---


Friday, August 26th: ELLEN SINOPOLI DANCE COMPANY
31 year old not-for-profit arts organization located in NYS's Capital Region. ESDC's commitment to CREATE, COLLABORATE, EDUCATE and PARTNER remains in the forefront as it shares its work with diverse audiences through concerts, showcases, residencies, workshops, educational and community outreach.
Saturday, August 27th: RYAN LEDDICK
Showcases a collage of musical talents that stop people in their tracks. Blending years of experience, Ryan Leddick weaves his soulful and haunting voice alongside rhythmic guitar lines to create an enticing folk-rock fusion.
Past performances:
---
Friday July 8th: ARCH STANTON QUARTET
Performs original jazz that is experimental, yet rooted in bop and post-bop traditions. The band has been a regular fixture of the Capital Region jazz club scene.
Saturday, July 9th: SONNY & PERLEY
The husband and wife team have spent the last several years developing and perfecting their unique blend of Jazz, Bossa Nova, American Songbook Standards, and International Cabaret which has become their musical signature
Friday, July 15th: TRISKELE
Known for their stunning harmonies, singing the the Gaelic language and for their Irish wit. These ladies perform traditional, original and some modern Celtic/Irish music.
Saturday, July 16th: LOST RADIO ROUNDERS
One of upstate New York's premiere Acoustic Americana duos, and in 2021 they welcomed banjo, guitar player and vocalist Paul Jossman to the fold. Jossman and Lost Radio Rounders co-founder Michael Eck are both members of the Capital Region Thomas Edison Music Hall of Fame.
Friday, July 22nd: CAROL DAGGS
An accomplished vocalist and pianist, Miss Daggs successfully auditioned for and attended the 1999 International FAME Festival Center for Jazz Studies, Directed by trombonist and Grammy-winning Producer, Mr. Delfeayo Marsalis. Since then, Miss Daggs twice obliged invitation to sing with ensemble instructor and Saxophonist extraordinaire Mr. Donald Harrison at the former Sweet Basil - now Sweet Rhythm, in New York City.
Saturday, July 23rd: THE FATUZZO BRASS QUINTET
Made up of some of the finest brass players and teachers in the Capital Region. They play all types of music including pops, Broadway show tunes, patriotic music, ethnic music, jazz, and classical music.
Friday, July 29: JORDAN TAYLOR HILL
Jordan is an artist rooted in traditional music from West Africa and the diaspora combined with todays sounds. His early influence in song writing and performance is coupled in a unique way meant to equally inspire and entertain.
Saturday, July 30: AS IZ
Albany, NY area based one-man band, songwriter, and multi-instrumentalist. Izzy has performed and recorded his music since the late 1980s.
Friday, August 5th: HEARD
A collective of musicians that bring their skills and passion for world music, jazz and improvising together to create irresistible grooves set in a unique sonic tapestry. Together for a decade, their vibrant sound incorporates influences from West Africa, Brazil, the Caribbean and beyond.
Saturday, August 6th: DUST BOWL FAERIES DUET
A faerie-tale fusion of dark cabaret, gothic polka and post-punk music, Dust Bowl Faeries are a dark-carnival band from the New York Hudson Valley. The band's eclectic repertoire of songs draw inspiration from circus songs, murder ballads and Eastern European folk music.
Friday, August 12th: JULIA ALSARRAF
Singer and multi-instrumentalist based in Troy, NY whose songwriting ranges from contemporary folk to indie pop/rock. Her music has been described as deep, soulful, and vulnerable.
Saturday, August 13th: MARK & JILL
A taste of New Orleans meets Austin. NY Blues Hall of Fame bluesman Mark Tolstrup and sultry Texas singer Jill Burnham come together where the Delta meets the Rio Grande. Over a haunting slide guitar their voices soar and blend in harmony. Mark and Jill bring a fresh original interpretation to the earliest roots of the blues.
Friday, August 19th: SYDNEY WORTHLEY
From private bedroom writing sessions, to recording at well acclaimed Nada Recording Studio, Worthley is jumping in head first with Rose Colored Glasses. Almost 3 years after her debut, Sydney Worthley, a shining young star from New York's Capital Region, has continued her journey in music
Saturday, August 20th: BOSSAMBA
Maggie MacDougall is a jazz vocalist with a passion for Brazilian music. On an inspiring two-week stay in Brazil, she met musicians, heard new genres of music, and made lifelong friends. During the Covid shutdown, she expanded her repertoire, studied Brazilian Portuguese, and collaborated with pianist Wayne Hawkins to form the band Bossamba.
You may also enjoy —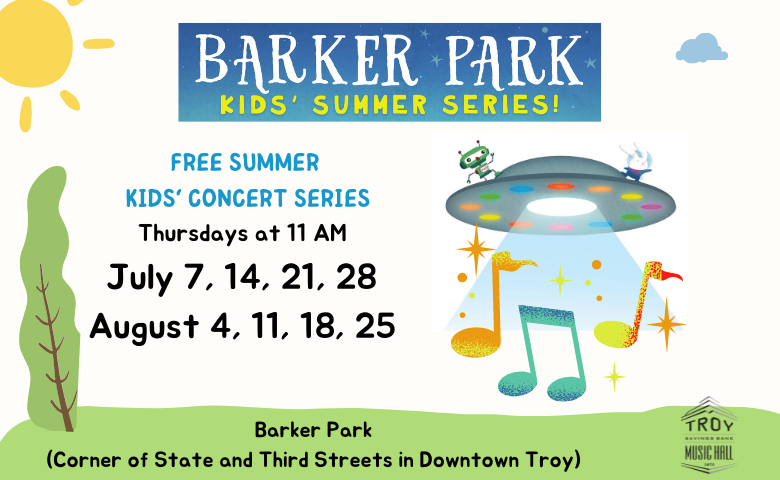 Thursday, August 25, 2022 @ 11:00AM
Free Event