The Troy Savings Bank Music Hall presents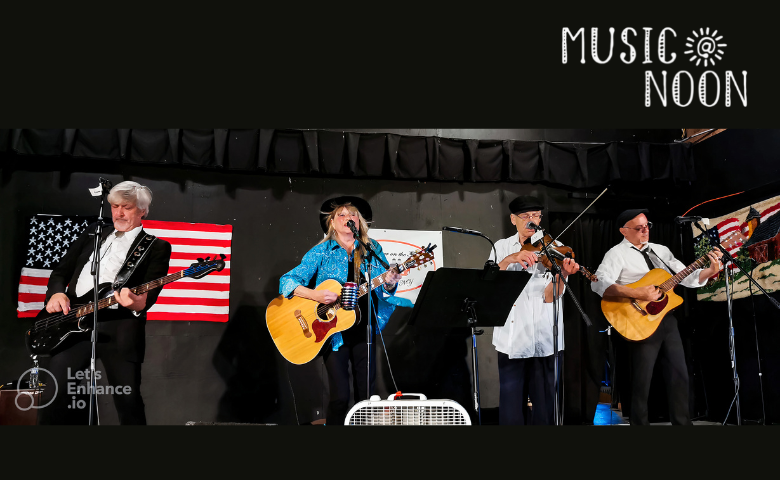 Music@Noon Free Concert Series!
The Bluebillies
The Bluebillies don't just sing Country songs; they embody them, performing their unique blend of country, bluegrass and folk music with traditional style, sound and spirit. Husband and wife team Mark and Melody Guarino have been singing together since 1984 when they first made it their mission to help revive and preserve the rich heritage of this great and uniquely American art form. With the addition of the Frank Orsini on fiddle and guitarist Greg Bucking, The Bluebillies were complete and perform together with all the joy and simpatico that only a "family" band can produce. The Bluebillies produce a series of traveling Old-time Gospel Music Revues each season, and also host their own gospel music open mic each summer, and have released three Cd's; Adirondack Angels in 2016, Gal From Ioway in 2014, and Train to Paradise in 2013. The Bluebillies are:
Mel "Melba Deen" Guarino was born in Sioux City Iowa to parents who both were musicians in swing bands. The family traveled all around the Midwest following the music and eventually settled in her dirt road one horse hometown of Black Oak Indiana. After hitchhiking and traveling all over the USA, Mel settled in New York City where she played with various rock and folk bands. But soon she returned to the music she first heard and loved in Black Oak, where Country Music was the music of choice among the population who had moved up North to find work in the gritty steel mills of Whiting and Gary. And it was the music that would become the driving force behind The Bluebillies style that forges close harmony bluegrass and hillbilly music into one heart-wrenching all American wail. Melody is a prolific, award winning songwriter (LARAC songwriter grant, 2013)
Mark Guarino cut his teeth on rockabilly and country in his first band, Buck Libido, and opened for bands like Pure Prairie League and New Riders of the Purple Sage. His NYC based band, The Ring, toured New England opening for acts such as The Ramones, Jason and the Scorchers, and Whitesnake. He is an accomplished songwriter and seasoned stage performer, well known throughout the lower Adirondack region.
Frank Orsini, has been one of the prominent acoustic musicians of Upstate New York. He plays violin, viola and mandolin, and has recently taken up Celtic harp. A versatile fiddler, singer and seasoned ensemble player, he has been on numerous recordings and been a member of many established groups with a strong following including the Whipper-Snappers, the Upstate Bluegrass Band and the High Flyers.
Greg Bucking has spent the past two decades writing for and performing in a variety of projects and musical styles. One of his current bands, The Vine Brothers, has recorded three albums and spent the last five years touring across the US, His song "Three Bottles" was featured on the Discovery Channel show Vegas Rat Rods, Greg also wrote and recorded three albums for the New York based Mother Freedom, one for Broken Carousel, and penned the score for the independent film My Brother Jack. Greg also regularly performs with the NYC ska sensations The Scofflaws.
You may also enjoy —
Tuesday, February 14, 2023 @ 12:00PM
Free Event