Join us for the Victorian Stroll!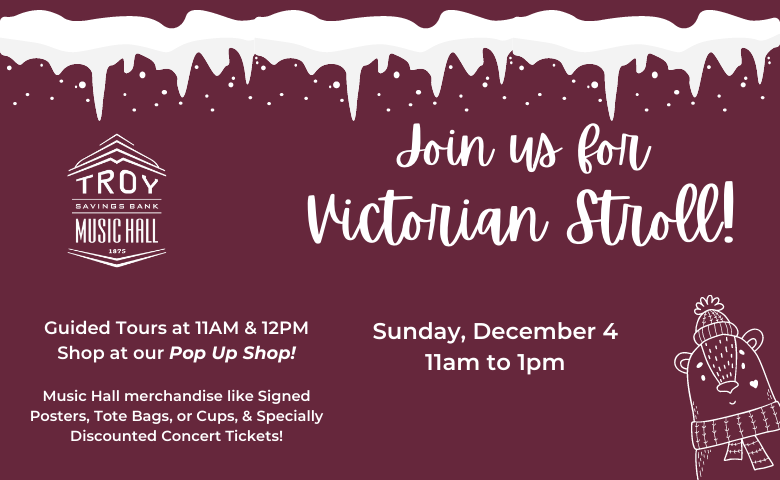 Victorian Stroll Open House
Merch store and Tours!
Join us on December 4th for Victorian Stroll!
Guided Tours of the Music Hall at 11am & 12pm
*limited to 50 people per tour
Merch Shop including signed posters, special gift card promotion, merchandise, & special ticket sales!
Gift Card Promotion*:
For every $50 gift card purchased, we'll load an additional $5!
Ticket Sale Specials**:
50% off Soweto Gospel Choir on 12/7
$15 Tickets to:
12/14 Lift Series: Rajna & Utsav
12/20 A Breath of Fresh Air, New Music by Women Composers
3/24 Emma Donovan & the Putbacks (7:30 PM performance)
$10 Off Tickets to Troy Chromatic Concerts presents West-Eastern Divan Ensemble
*Gift Card promotion valid in-person, online at www.troymusichall.org and by phone at (518) 273-0038 from November 23, 2022 through December 23, 2022. The Music Hall cannot guarantee delivery by Christmas Day unless purchased by December 16.
**Ticket Sale Specials valid only at the Box Office on 12/4 for Victorian Stroll. Offer is not valid on any other performance unless listed above, and cannot be used retroactively. Offer is not valid for purchase by phone or online.