Troy Savings Bank Music Hall presents
The Knights with Chris Thile
Troy Chromatics Concert Series
The Knights
with
Chris Thile, mandolin and vocals
Eric Jacobsen, Artistic Director and conductor
Colin Jacobsen, Artistic Director and violin solo


Program:
CAROLINE SHAW: Is A Rose: No. 2, And So with Chris Thile, mandolin and vocals
CHRIS THILE: ATTENTION! featuring Chris Thile, mandolin and vocals
a narrative song cycle for extroverted mandolinist and orchestra
ANTONÍN DVORÁK: "Toward America" (arr. String Quartet No. 12 in F major, Op. 96) arr. Curtis Stewart
COLIN JACOBSEN: Sheriff's Freud
J.S. BACH: Allegro from Double Violin Concerto in D Minor, featuring Chris Thile, mandolin, and Colin Jacobsen, violin
All programs subject to change.
THE KNIGHTS
The Knights are a collective of adventurous musicians dedicated to transforming the orchestral experience and eliminating barriers between audiences and music. Driven by an open-minded spirit of camaraderie and exploration, they inspire listeners with vibrant programs rooted in the classical tradition and passion for artistic discovery. The Knights evolved from late-night chamber music reading parties with friends at the home of violinist Colin Jacobsen and cellist Eric Jacobsen. The Jacobsen brothers together serve as artistic directors of The Knights, with Eric Jacobsen as conductor.
Proud to be known as "one of Brooklyn's sterling cultural products... known far beyond the borough for their relaxed virtuosity and expansive repertory" (The New Yorker), the orchestra has toured extensively across the United States and Europe since their founding in 2007. The Knights are celebrated globally, appearing across the world's most prestigious stages, including those at Tanglewood Music Center, Ravinia Music Festival, the Kennedy Center, the Vienna Musikverein, and Hamburg's Elbphilharmonie. The orchestra has collaborated with many renowned soloists including Yo-Yo Ma, Dawn Upshaw, Béla Fleck, and Gil Shaham.
The centerpiece of The Knights' 2022-23 season is an eleven-stop European tour with dynamic violinist Ray Chen, October 25 to November 6. The Knights also perform with longtime presenter partners closer to home, including the Clark Art Institute, the Ravinia Festival, Temple Emanu-El, and more. Artistic collaborators in the 2022-23 season include 2022 GRAMMY-winning countertenor Anthony Roth Costanzo and genre-shattering pianist/composer Aaron Diehl, with whom The Knights will release an album of Mary Lou Williams' Zodiac Suite in 2023. For the latest updates on our season and a complete list of artistic partners and collaborative projects, please visit our website: https://theknightsnyc.com/.
CHRIS THILE
MacArthur Fellow and Grammy Award-winning mandolinist, singer, songwriter Chris Thile, who the Guardian calls "that rare being: an all-round musician who can settle into any style, from bluegrass to classical," and NPR calls a "genre-defying musical genius," is a founding member of the critically acclaimed bands Punch Brothers and Nickel Creek. For four years, Thile hosted public radio favorite Live from Here with Chris Thile (formerly known as A Prairie Home Companion). With his broad outlook, Thile creates a distinctly American canon and a new musical aesthetic for performers and audiences alike, giving the listener "one joyous arc, with the linear melody and vertical harmony blurring into a single web of gossamer beauty" (New York Times).

Most recently, Chris recorded Laysongs, out June 4, 2021 on Nonesuch. The album is his first truly solo album: just Thile, his voice, and his mandolin, on new recordings of six original songs and three covers, all of which contextualize and banter with his ideas about spirituality. Recorded in a converted upstate New York church during the pandemic, Laysongs' centerpiece is the three-part "Salt (in the Wounds) of the Earth," which was inspired by C.S. Lewis's The Screwtape Letters. The album also features a song Thile wrote about Dionysus; a performance of the fourth movement of Béla Bartók's Sonata for Solo Violin; "God Is Alive, Magic Is Afoot" based on Buffy Sainte-Marie's adaptation of a Leonard Cohen poem; a cover of bluegrass legend Hazel Dickens' "Won't You Come and Sing for Me," and "Ecclesiastes 2:24," original instrumental loosely modeled after the Prelude from J.S. Bach's Partita for Solo Violin in E Major.
ERIC JACOBSEN
Just 40 years old and already well-established as one of classical music's most exciting and innovative young conductors, Eric Jacobsen combines fresh interpretations of the traditional canon with cutting-edge collaborations across musical genres. Hailed by the New York Times as "an interpretive dynamo," Eric, as both a conductor and a cellist, has built a reputation for engaging audiences with innovative and collaborative programming.
Eric is artistic director and co-founder of The Knights, the uniquely adventurous NYC-based chamber orchestra. The ensemble, founded with his brother, violinist Colin Jacobsen, grew out of late-night music reading parties with friends, good food and drink, and conversation. As conductor, Jacobsen has led the "consistently inventive, infectiously engaged indie ensemble" (New York Times) at venues throughout New York City and surrounding areas, at major summer festivals, and on tour nationally and internationally. Under Jacobsen's baton, The Knights have developed an extensive recording collection, which includes the critically acclaimed albums Azul, with longtime collaborator Yo-Yo Ma, as well as a recent featuring Gil Shaham in performances of the Beethoven and Brahms Violin Concertos.
Eric is also Music Director of the Virginia Symphony Orchestra and the Orlando Philharmonic Orchestra, continuing to pioneer both orchestra's programming and community engagement in new and exciting directions.
Eric brings joy, storytelling, and a touch of humor to what he describes as "musical conversations" that delight audiences around the world, including those who don't traditionally attend classical music concerts. Jacobsen is married to Grammy-winning, singer-songwriter Aoife O'Donovan and they have a five-year-old daughter, Ivy Jo.
COLIN JACOBSEN
Violinist and composer Colin Jacobsen is "one of the most interesting figures on the classical music scene" (Washington Post). Since the early 2000's, Jacobsen has forged an intriguing path in the cultural landscape of our time, collaborating with an astonishingly wide range of artists across diverse traditions and disciplines while constantly looking for new ways to connect with audiences. For his work as a founding member of two innovative and influential ensembles – the string quartet Brooklyn Rider and orchestra The Knights – Jacobsen was selected from among the nation's top visual, performing, media, and literary artists to receive a prestigious and substantial United States Artists Fellowship. He is also active as an Avery Fisher Career Grant-winning soloist and has toured with the Silkroad Ensemble since its founding by cellist Yo-Yo Ma in 2000 at Tanglewood. As a composer he has written pieces for an eclectic mix of artists including pianist Emanuel Ax, singers Anne-Sofie Von Otter and Jamie Barton, banjo player Bela Fleck, mandolinist Avi Avital, clarinetist Kinan Azmeh, choreographers John Heginbotham and Brian Brooks, theater group Compagnia de' Colombari and the Brooklyn Youth Chorus. Starting in the 2022/23 season, Jacobsen assumes the position of Artistic Director of Santa Fe Pro Musica, an organization with which he has had a fruitful long-term association as a guest soloist and leader.
You may also enjoy —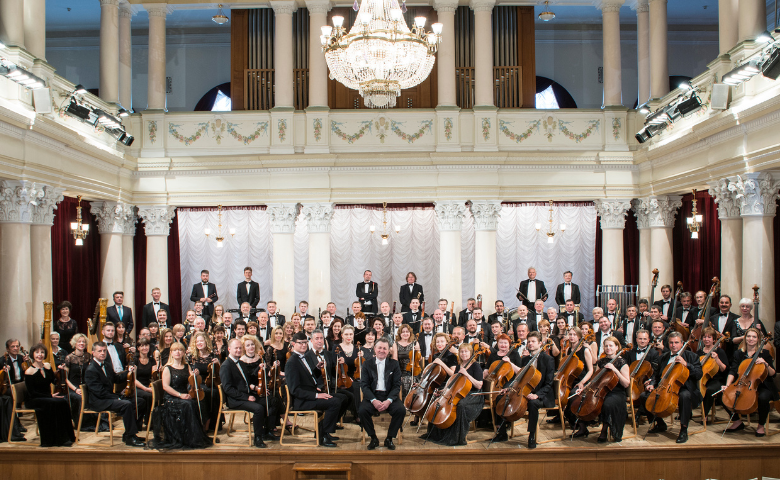 Thursday, February 22, 2024 @ 7:30PM