The Troy Savings Bank Music Hall presents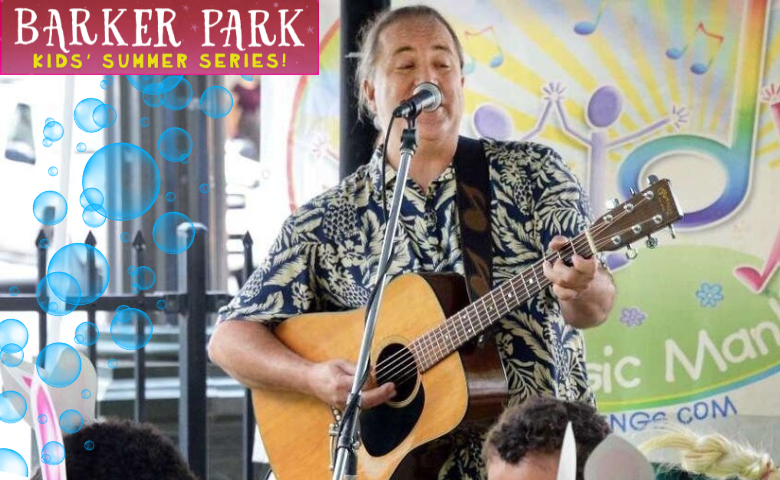 The Troy Savings Bank Music Hall is thrilled to announce the return of free outdoor concert series; Barker Park Kid's series! Barker Park shows are at 11am on Thursdays during July and August. Barker Park is located at the corner of 3rd and State Streets.
Instruments for the children provided by:

---
27 years so far…. "Do what you love for a living and you'll be happy" Jack Morse sportscaster/father
Andy "The Music Man" Morse is a popular children's musician renowned for the special way he connects with his audiences. A rhyhmic guitarist, mandolin player and songwriter, Andy mingles traditional and original songs and novelty, delighting and involving kids through sing-a-longs, dancing, play-acting and storytelling.
Says musician Scott Bierko, "Andy off-stage is Andy on-stage: funny, quick-witted, warm and in-the-moment. He obviously has mastery of his planned set, but he riffs with the audience by listening, watching and reacting to what's going on around him. He speaks to the audience of parents and kids with equal respect and weaves their ideas into his songs with ease."
From the moment he appears, Andy reels in the kids and holds their attention. He has a gift for establishing rapport, making each child feel comfortable participating in calling out rhymes or acting out animals or the alphabet. With insights and humor arising from the interaction and inventiveness of the children, Andy's performances often reach fresh and funny heights.
While all the fun is going on, Andy is also educating. Through gentle lessons that never turn into lectures, he talks and sings about things that are important to children as individuals - brushing teeth, sharing, using good manners, helping out at home - and as members of the greater community: taking care of the Earth and each other. As 7-year-old Bridget wrote to Andy, "I laughed, I sang, I learned."
Andy keeps the "zing" in "sing" through ongoing efforts to keep his shows invigorated. He talks to parents and teachers about what children want and need, and often weaves the information into lively themes. Andy created and widely performed a program for "Make A Splash - Read!", a 2010 summer initiative of the New York State Libraries Association. He designed the show to explore water, summer, sea creatures, and an aquatic alphabet to his song, "Funky ABC's."
With 27 years experience as a children's musician and educator, Andy now has close to a generation of pint-sized fans (and their parents!). A versatile performer, his venues include day care centers, elementary schools, libraries, birthday parties, theaters, children's museums, dance flurries, and First Nights. Andy appears throughout the Capital Region of New York State, where he is based, as well as in the Northeast and New England. Making his mark around the country, he is an in-demand director of Children's Music Programming at national musical festivals that attract 15,000 to 20,000 persons in Florida, California, Maine, and Connecticut.
Andy conducts teacher education workshops on reaching children through interactive music. He has been a recipient of a mentor program grant from Arts in Education through the Albany-Schenectady League of Arts, former student of improvisational theater, and an active member of the Children's Music Network.
Andy's mission: "As a musician, a teacher, and a father, I am dedicated to bringing music into the lives of children and the adults who care for them."
"I wish I could hear Andy every day."
Suzie, Age 4