The Troy Savings Bank Music Hall presents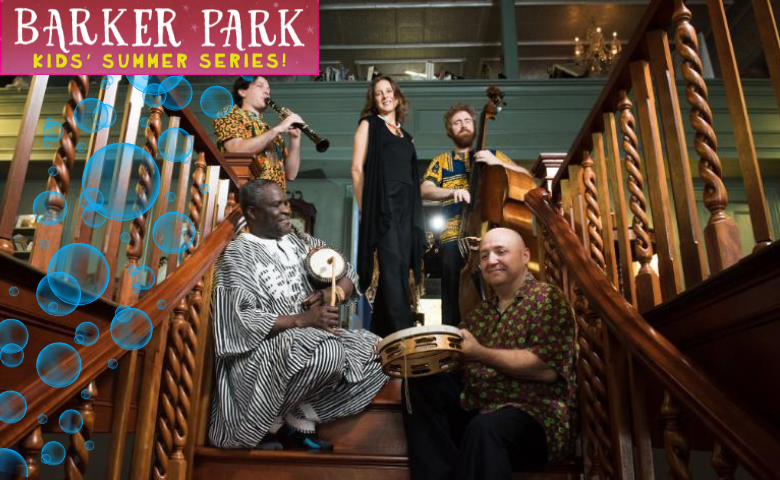 The Troy Savings Bank Music Hall is thrilled to announce the return of free outdoor concert series; Barker Park Kid's series! Barker Park shows are at 11am on Thursdays during July and August. Barker Park is located at the corner of 3rd and State Streets.
Instruments for the children provided by:

---
Heard is a collective of musicians that bring their skills and passion for world music, jazz and improvising together to create irresistible grooves set in a unique sonic tapestry. Together for 15 years, their vibrant sound incorporates influences from West Africa, Brazil, the Caribbean and beyond. Their debut CD Karibu reached #15 on the WorldJazz charts and 2018's daring Flyway is similarly garnering much critical acclaim.
Heard is a 4 time Eddy Music Awards nominee in the World Music category.
Energetic & upbeat, Heard will open your ears & hearts..and get you up and dancing!
Our core quintet includes Jonathan Greene (woodwinds), Bobby Kendall (bass), Brian Melick (drums), Zorkie Nelson (percussion/vocals), and Elizabeth Woodbury Kasius (keyboard/vocals). We also often feature amazing special guests, including: Augustina Nelson (dance/percussion/vocals), and Fosino Nelson (dance/percussion/vocals), Laura Andrea Laguia (woodwinds), Matt Steckler (woodwinds), Melora Creager (cello),
Aston "Robot" Ellis (steel drums), Nate Giroux (woodwinds), George Muscatello (guitar), Lou Smaldone (bass) and Rich Syracuse (bass).