Troy Savings Bank Music Hall's Lift Concert Series Presented by Rare Form Brewing Company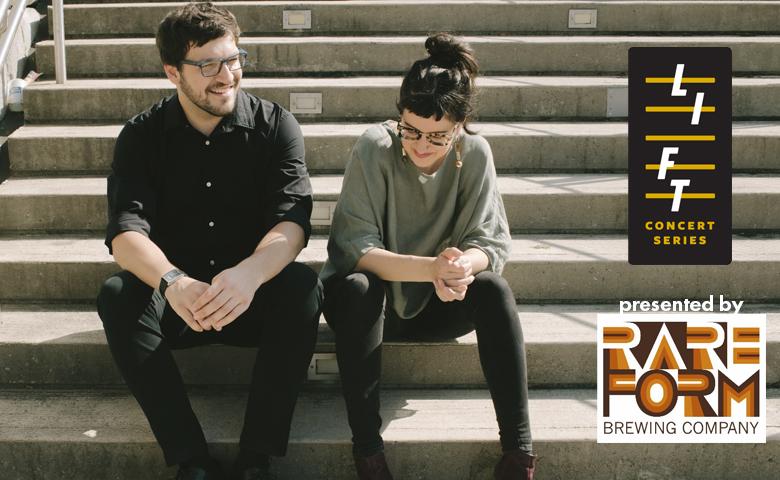 The Lift Concert Series
Organ Colossal
The Lift Concert Series
An Elevated Experience
The Lift Concert Series is four performances of new, independent music that all take place on Wednesday nights. Tickets are just $15 per show - subscribtions are available for $50.
What makes this series different?
The series is carefully curated to feature talented performers whose work is unique in their field.
Patrons will enter the Hall through Franklin Alley and take the freight elevator to our backstage area. They will be seated onstage with the musicians, creating an intimate concert experience. A bar serving beer and libations from Rare Form Brewing Company will be available. Performances start at 6 PM. After the show, everyone is encouraged to enjoy the rest of the evening at one of Troy's terrific restaurants or breweries. Plumb Oyster Bar, located just down the street from the Hall, will offer concert goers a free prosecco after the concert in exchange for their ticket.
Organ Colossal - Featuring an all-local cast of performers, the collective will perform music by local composers and songwriters Mary Jane Leach, Julia Alsarraf, Patrick Burke, Sam Torres, and Pauline Oliveros. Drawing from a wide range of musical backgrounds, the performers will present contemporary chamber music, reimaginings of songs by songwriter Julia Alsarraf, and the deep listening music of local legend Pauline Oliveros.
Pianist and keyboardist Sophia Subbayya Vastek, described as playing with "passion and profound tenderness" (Second Inversion) and with "serene strokes and lyrical beauty" (Brooklyn Rail), maintains an active career as a performer, educator, interdisciplinary collaborator, and event producer.

Sophia's debut album "Histories" was released on innova Recordings with music by Michael Harrison, Donnacha Dennehy, and John Cage. It was produced by multiple Grammy-winning engineer Adam Abeshouse and features tabla player Nitin Mitta, vocalist Megan Schubert, and Michael Harrison on tanpura. Of the album, Second Inversion writes, "The result is both an homage to Vastek's own individual histories but also a beautiful mosaic of the larger cultural intersections of our world—and how we weave those histories together through music."

Sophia is one half of Tilted Arc, a synth and piano-based electronic duo with Sam Torres. Together, they create, perform, and produce music and installations. Sophia and Sam also co-direct Organ Colossal, a musicians' collective based in their hometown of Troy, NY. In this endeavor, they are committed to producing concerts that are safe and available to any musician who wishes to perform.

Performing has taken Sophia to South Africa, Mexico, France, and around the United States, including at venues such as the Kennedy Center, the United States State Department, The Apollo Theatre (NYC), The Linda (Albany), Massachusetts Institute of Technology, and National Sawdust. She has also been presented at The NoiseGate Festival, Queens New Music Festival, Artscape, and Arts Letters & Numbers.
Sophia maintains an ongoing relationship as a visiting artist with Arts Letters & Numbers, a nonprofit in upstate New York dedicated to creating creative exchanges across a wide range of disciplines. There, she has co-directed creative music workshops and aided in the development of musical programming and music inclusion within the larger workshops and structures.

Sophia calls Troy, NY home. Locally, she is on the board of directors of Friends of Chamber Music of Troy, NY, and also curates the Tuesdays at Noon series at St. Paul's Church in downtown Troy and The Lift Series at the Troy Savings Bank Music Hall, in addition to her musical community work with Organ Colossal.
Sam Torres is a Troy, NY based composer, saxophonist, and audio engineer.
Sam's ongoing projects include a duo with pianist Sophia Vastek called Tilted Arc, and Organ Colossal, an ensemble and concert presenting collective (also co-directed by Sophia Vastek).
As a composer, Sam has been commissioned by The Witches, the Peabody Community Chorus, the public school district of Bedford, NY, Music of Reality, bassist Sam Zagnit, and Sophia Vastek. He has written music for live electronics and saxophone, string quartet, percussion quartet and live electronics, solo piano, orchestra, and other chamber ensembles. His composition, "Ritual: Breath of a Poem" for percussion quartet and interactive multichannel electronics won the first prize in the Peabody Institute Prix d'Eté in 2018.
His music has been performed at Thalia Theater at Symphony Space, Spectrum NYC, Arts Center of the Capital Region, University of Cape Town in South Africa, Arts Letters & Numbers, Peabody Institute, Johns Hopkins University, Manhattan School of Music, and elsewhere. As a saxophonist and woodwind doubler, Sam has performed at Carnegie Hall, Jazz at Lincoln Center, Symphony Space, Spectrum NYC, the RISD Museum, SMOKE, The Shrine, and others with his own groups, ensembles from Manhattan School of Music, New York Youth Symphony, and New York Jazz Academy.