The Troy Savings Bank Music Hall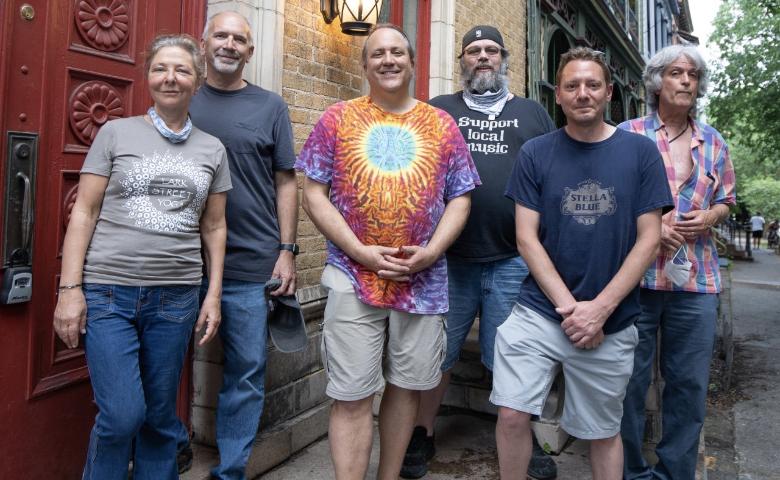 An Acoustic Evening with The Wheel
A FREE two-hour acoustic set streamed live from our stage!
YouTube Link: https://youtu.be/nu_vuaC7ric
In the spirit of the Grateful Dead's Reckoning album, the Troy Music Hall presents an "Acoustic Evening with The Wheel" on Saturday, February 27th from 8-10 pm. Join us for this two-hour set, live-streamed from the stage! This performance is free, no ticket required.
Between their friendship, musical abilities, and faithful fans the well-greased Wheel continues the journey of the music so many Grateful Dead listeners near and far have loved over the years.
Hailing from the Capital Region of NYS The Wheel was founded by Andy Morse (aka Andy "The Music Man") in 2010. Band members Bryan Gautie on lead guitar, Rick Rothermel on keys, Dave Pallas on bass, Joe Sobero on drums, Jill Gautie on vocals, and Andy Morse on rhythm guitar all playing tribute to the timeless music of the Dead.
PLUS! Bacchus Wood-Fired is offering 20% off your order when you mention the Troy Savings Bank Music Hall or your intentions to tune in to this Saturday's livestream with The Wheel! This offer is valid Tuesday 2/23 through Saturday 2/27 nightly from 5-10pm, is not retroactive and cannot be combined with any other offers. To order from our friends at Bacchus, give them a call at (518) 687-0345!
---
Tips & donations appreciated!
Click below to navigate to the Hall's PayPal to tip The Wheel & donate to the Troy Savings Bank Music Hall.
Thank you so much for your support!