The Troy Savings Bank Music Hall presents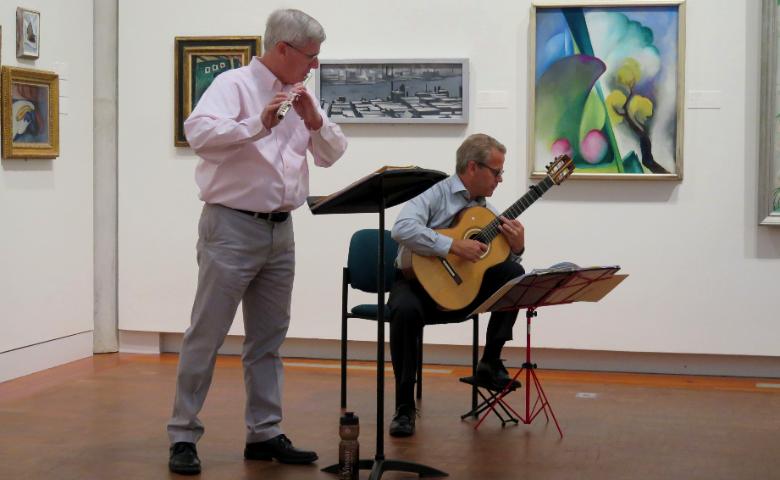 Music@Noon - Carl Gutowski & David Temple
Flute and Classical Guitar
Please visit our Health & Safety Guide for more information regarding Masks & Vaccination requirements.
Carl Gutowski has been performing solo and chamber music for over 30 years. He began playing in the 5th-grade public school band program. A natural talent, he immediately began lessons with Tacy Edwards of the Hudson Valley Philharmonic and excelled rapidly, winning scholarships and concerto competitions. He continued summer studies with members of the Cleveland Orchestra including flute with William Hebert. He has performed in masterclasses for Paula Robison, Ransom Wilson, Maurice Sharp, and Lady Jeanne Galway. Carl attended Vassar College--majoring in Mathematics--where he studied flute with John Solum and musicology with Edward Reilly and Janet Knapp.
Subsequent to college, Carl followed a career in Software Development. He has worked for the past 25 years developing software systems for air traffic control, publishing, education, e-commerce, and finance. He is currently a Software Architect at SS&C | Innovest. He holds a B.A. in Mathematics from Vassar College and an M.S. in Computer Science from Tufts University.
After several years off from playing, Carl returned to his musical passion and has devoted more time to this interest. He is currently the Concert Manager of the Howland Chamber Music Circle in Beacon, NY, overseeing all that's entailed in bringing world-class musicians to a world-class venue, the Howland Cultural Center.
Carl is an active performer in chamber music and solo settings. Highlight performances over the past few seasons include recitals at the Cultural Center of Cape Cod; the Chapel Restoration in Cold Spring, NY; the Frances Lehman Loeb Art Center at Vassar College; the Cape Cod Museum of Art; Concerts Con Brio in Poughkeepsie, NY; the Old Dutch Church in Kingston, NY; the National Opera Center in NYC; and as a Featured Artist at the Open-Mic Classical series in Brewster, MA. In October 2021, he performed as a soloist at Carnegie Hall's Weill Recital Hall, performing works by Debra Kaye and Ian Clarke with pianist Toshiko Jones.
Carl's live performances have been featured on WQXR (NYC); WOMR (Provincetown, MA); WMHT (New York's Hudson Valley); and WPRB (Princeton, NJ). More info at https://carlgutowski.com/
Classical guitarist and composer David Temple has performed throughout the country as a soloist, accompanist, and ensemble player. He is dedicated to presenting guitar performances that are full of color and variety, and to making the concert experience as enjoyable for the newcomer as for the experienced listener.
Concerts have included the Festival of the Arts at Mohonk, the Ulster Chamber Music Series, the Philadelphia Classical Guitar Society, the Center for Performing Arts at Rhinebeck, the Foothills Performing Arts Center in Oneonta, NY, and many others.
A graduate of the music school at Eastern Michigan University, David is Artistic Director and Vice President of the Mid-Hudson Classical Guitar Society, and teaches both guitar and composition at Bard Conservatory, Preparatory Division, and at his home studio in Red Hook, NY.
He has produced four recordings, which include an eclectic selection from the repertoire, as well as original arrangements and compositions.
More can be found at: http://www.davidtemple.com/
Program:
Franz Gossec, Tambourin
Hector Villa-Lobos, Bachianas Brasileiras No. 5
Mauro Giuliani, Grand Duo Concertant Op. 85
1. Allegro Moderato
Georg Philipp Telemann, Fantasy No. 5 for solo flute
J. S. Bach, Prelude from Cello Suite No. 1, for solo guitar
Jacques Ibert, Entr'acte
Fernando Carlos Tavolaro, Milonga No. 5
Celso Machado, Musique Populaire Brésiliennes
1. Pacoca (choro)
2. Sambossa
Traditional (arr. Henry Wadsworth), Shenandoah/The Water is Wide
Mario Castelnuovo-Tedesco, Sonatina, Opus 205
1. Allegretto Grazioso