Outback presents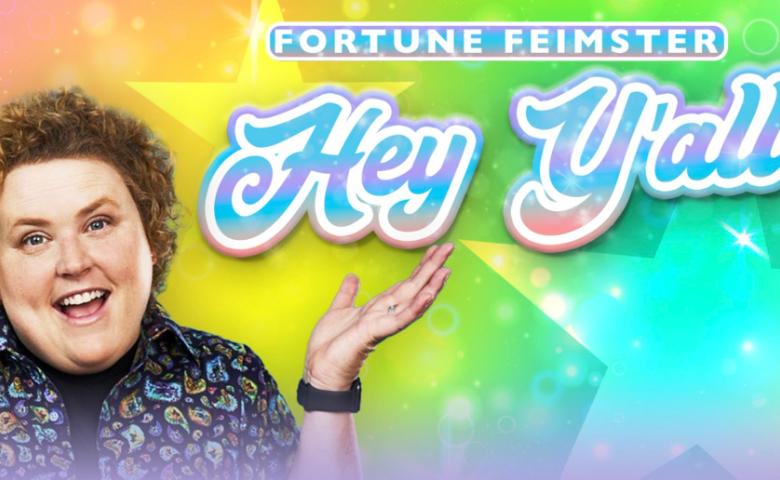 Fortune Feimster
Hey Y'all
Please visit our Health & Safety Guide for more information regarding Masks & Vaccination requirements.
---
Stand-up comedian, writer, and actor, Fortune Feimster, is one of the busiest women working today. She first became known as a writer and panelist on E's hit show Chelsea Lately, and then starred as a series regular on The Mindy Project for Hulu and Champions for NBC. She has gone on to have many guest appearances on TV shows including Claws, 2 Broke Girls, Workaholics, Glee, Dear White People, and Tales of the City, as well as recurring roles on Showtime's The L Word: Generation Q and CBS's Life In Pieces.

She's had memorable roles in the movies Office Christmas Party, Social Animals, and Father of the Year. She also recently voiced the role of Evelyn on The Simpsons, she's the voice of Brenda on Bless the Harts for Fox, and she voices Ava on Summer Camp Island for the Cartoon Network.
---
Caitlin Peluffo:
Originally hailing from San Francisco, CA, Caitlin Peluffo is a comedian currently living in Brooklyn, NY. After a brief six year stint in art school where she studied performative video art (no, really…that's a thing) she has expanded her talents to the stage. She's opened for comedians, Maria Bamford, Fortune Feimster, Matteo Lane, and Brian Regan. She's been featured everywhere from the world famous Comedy Cellar in the Big Apple to clubs nationwide talking about how she came to be such a lovable loose cannon.
For the past two years, Caitlin has hosted her weekly podcast, Good Time Gal with Caitlin Peluffo. She also recently participated in The Breakout Artist Series for Carolines on Broadway. With Caitlin, no subject is off limits, however, she did make a promise to her mother that she would never, ever discuss that one time she took those 'whorish, yet tastefully executed' photos for a guy she used to bang in the military. She may be a patriot, but a promise is a promise.