The Troy Savings Bank Music Hall presents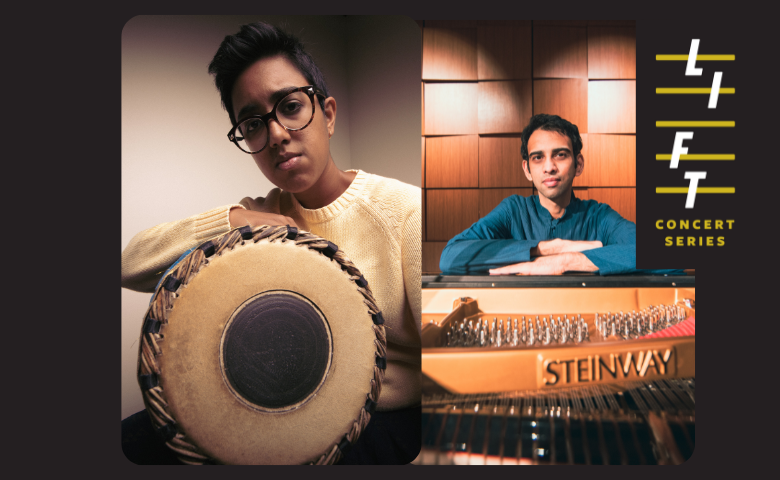 The Lift Series w/ Rajna & Utsav
For this special concert series, audience members are invited to sit on stage with the musicians.
**Due to the ice build up in Franklin Alley we are going to have ticketholders enter through the front door tonight!
The Lift Concert Series presents performances of new, independent music featuring regional performers, curated by Organ Colossal: Sam Torres and Sophia Subbayya Vastek. The audience is invited to enter the Hall through Franklin Alley, take the freight elevator to our backstage area, and be seated on stage, with the musicians, creating an intimate concert experience. Concerts are designed to last about an hour and, after the performance, concert-goers are encouraged to enjoy the rest of the evening at one of Troy's many restaurants or breweries.
RAJNA SWAMINATHAN – www.rajnaswaminathan.com
Rajna Swaminathan is an acclaimed mrudangam artist, composer, and scholar. Rajna has been described as "a vital new voice" (Pop Matters), creating "music of gravity and rigor… yet its overall effect is accessible and uplifting" (Wall Street Journal).
One of only a few women who play the mrudangam professionally, Rajna received her creative foundation on the instrument from her father, P.K. Swaminathan, and mrudangam legend Umayalpuram K. Sivaraman. Through extensive experience performing in the Karnatik music and bharatanatyam scenes, an affinity for various streams of South Asian film/popular music, and deep collaborative work in New York's jazz and creative music scene, Rajna developed experimental approaches to improvising on the mrudangam, piano, and voice.
Rajna's orientation as an improviser-composer blossomed through a search for resonance and fluidity among musical forms and aesthetic worlds. Her ensemble RAJAS has been a prominent medium for her expansive compositions, which involve a lattice of rhythmic, textural, and modal approaches. The ensemble's sound has been described as "unlike any other on the scene" (New York Times), and their debut album, Of Agency and Abstraction (Biophilia Records, 2019), received much critical acclaim. The ensemble recently toured a new suite, Apertures, commissioned and supported by Chamber Music America's New Jazz Works program.
Rajna's scholarly work also intersects with her musical study and informs her creative curiosities. She was recently appointed as Assistant Professor of Music (Integrated Composition, Improvisation, and Technology) at UC Irvine's Claire Trevor School of the Arts. She holds a PhD in Music (Creative Practice and Critical Inquiry) from Harvard University, and degrees in Anthropology and French from the University of Maryland, College Park.
In addition to her work with RAJAS, Rajna has composed for JACK Quartet, Del Sol Quartet, violinists Jennifer Koh and Lucia Lin, among others. Recent commissions include the Los Angeles Philharmonic, National Sawdust, Bang On A Can Marathon, and fellowships with the Gabriela Lena Frank Creative Academy of Music. Rajna performs extensively in ensembles led by Vijay Iyer, Amir ElSaffar, Ganavya Doraiswamy, and Aakash Mittal. Her interdisciplinary work has included collaborations with playwright Anu Yadav, visual artist Zahyr Lauren, the Ragamala Dance Company, and poets Mahogany L. Browne, Sarah Kay, and Jon Sands.
UTSAV LAL – www.utsavlal.com
Young Steinway Artist, pianist, composer Utsav Lal, is recognised as one of the most talented musicians of his generation. Stunning the world with his innovative handling of Indian Classical Music on a Western instrument, Lal's creative musical genius and ground-breaking work over the last 17 years has led to an impressive career performing at world venues that include Carnegie Hall (New York), Southbank Centre (London), Kennedy Center (Washington DC), Asia Society (Hong Kong), Steinway Hall (New York), Arts Center (Melbourne), NCPA (Mumbai) and others.
Treading the line between an ancient tradition and an innate desire for innovation, Lal's unfailing clarity of technique & rhythmic virtuosity creates music that is recognised for its sincerity, simplicity and depth. Lal is known for his deeply personal and expressive playing and The Irish Times describes him as "a fleet-fingered performer whose best moments can be both highly evocative and dazzling."
Lal has challenged commonly understood ways of improvisation to develop his own unique voice for the piano, taking solo stage with his distinctive raga repertoire at leading international Jazz, Silent Film, World Music festivals and cultural events. Respected for his versatility, Lal features on several international collaborations with prominent names like Martin Hayes, Dennis Cahill, Winifred Horan, George Brooks, Australian Contemporary Circus Theatre CIRCA, Talvin Singh, Rajna Swaminathan, Jake Charkey, Ganavya and others. From his debut album Piano Moods of Indian Ragas, Times Music (2008), Lal has seven subsequent records which include a historic one-of-its kind solo album on the world's first 'Fluid Piano', released by Fluid Piano Tuning label (2016).
Nominated as Young Steinway Artist (2010), TiE Aspire Young Indian Achiever (2012) & Yamaha Jazz Scholar (2014), Lal's work is profoundly influenced by Indian Classical Ragas and blends his varied musical experiences, whilst drawing additional strength from jazz and experimental music. Lal holds a Bachelor in Jazz (Royal Conservatoire of Scotland), Masters in Contemporary Improvisation (New England Conservatory of Music) and is a disciple of Indian Classical Music under Ustad F. Wasifuddin Dagar, of the legendary Dhrupad Dagar family and violinist Sharat Srivastava (Senia Gharana).
---
The Lift Series is generously underwritten in part by Julia Alsarraf & Nina Nichols
You may also enjoy —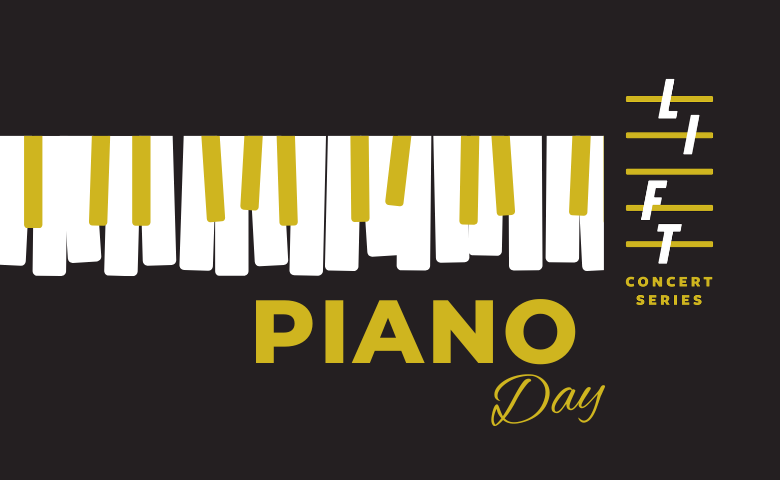 Wednesday, March 29, 2023 @ 6:00PM